HIGROW 150W LED Grow Light White, Sunlike 315 LED Full Spectrum Grow Lamp, 360 Degree Flexible Gooseneck Plant Light for Indoor Greenhouse Hydroponic Plants Seeding, Growing, Flowering
$29.99
Description
Price: $29.99
(as of Apr 19, 2023 13:03:30 UTC – Details)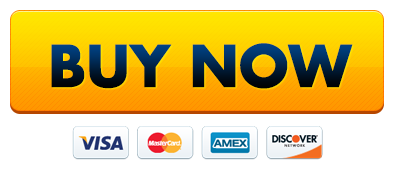 Product Description
Wolezek Sunlike Full Spectrum Plant Light – Fill your plants with sunshine!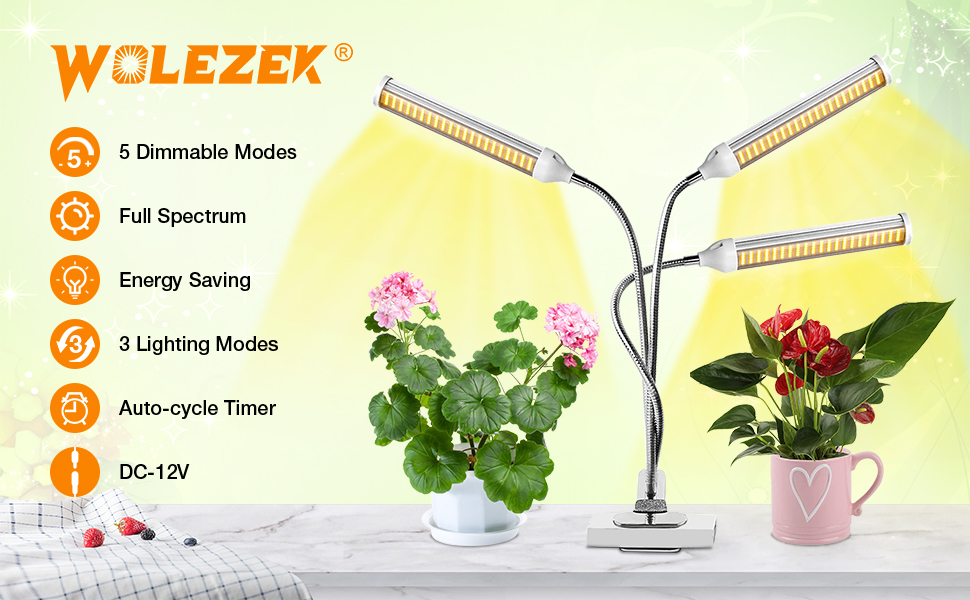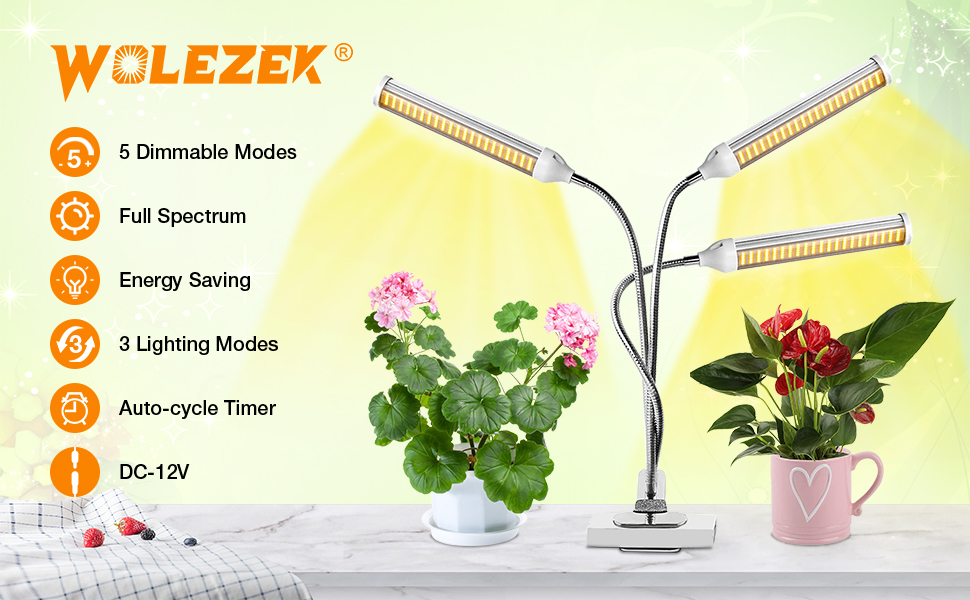 Best Partner For Your Plants in Winter
Born for Plant:
Wolezek is committed to researching the most suitable plant lights for plant growth, creating a growth environment close to nature for plants.
1. 315 LEDs — Replace 150 watt HPS, brighter and more energy-efficient.
2. Dimmable — 20%, 40%, 60%, 80%, 100% adjustable brightness, suitable for the needs of various plants.
3. Full Spectrum — Similar to natural sunlight (380nm-800nm), simulate the natural environment for plant growth, supplementing the lack of natural sunlight and promoting plant healthy growth.
4. 3 Lighting Modes — Flexible opening of the light bar, single light, double light, triple light.
5. Auto On/Off Timer — 3H/6H/12H timer, auto on/off only requires a simple setting once, convenience to use.
6. DC-12V Power Supply — Different from the USB adapter, it can provide more stable current and brighter light.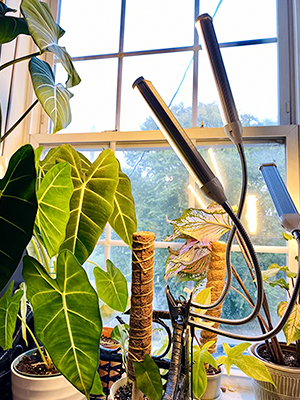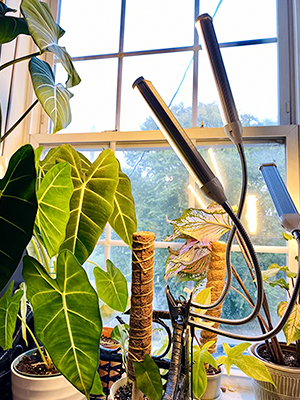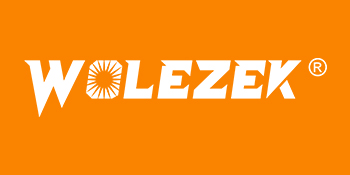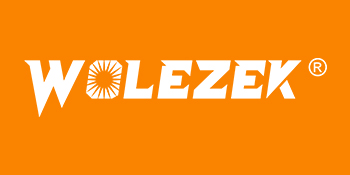 Package Includes: 1 x Triple Gooseneck Holder 3 x Spotlights 1 x US DC12V Power Adapter 1 x User Manual
Wolezek 150W Led Growing Light
Take Care for Your Plant Healthy
Specification:
Product name: Triple Heads 315 LEDs led grow lamp with timer
Input Voltage: 100V-240V
Output Voltage: DC 12V
Light Power: Replace 150watt HPS
LED Quantity: 315 pcs
Color of lamp beads: Natural Sunlike
Gooseneck length: 38cm
Material: Aluminum
Frequency: 50-60HZ
Main Features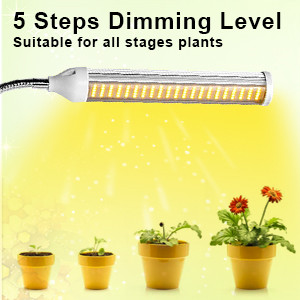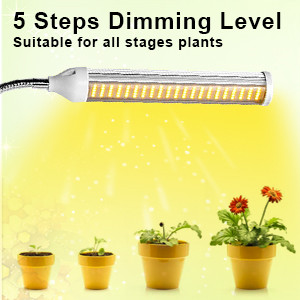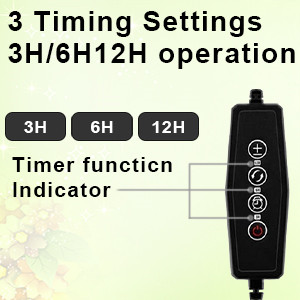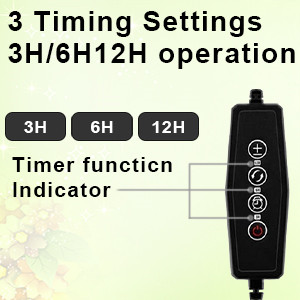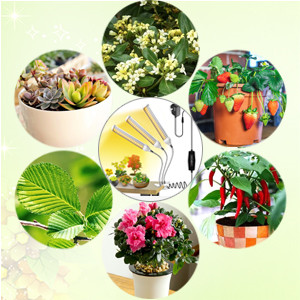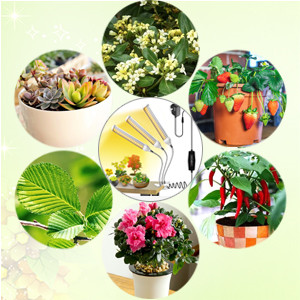 5 Adjustable Brightness
5 adjustable brightness to suit varied stages of plant growth. The full-spectrum plant lamp can not only deliver the light that plants need for growth, but can also accelerate plant growth,shorten the growth cycle.
Plant Light with Auto Timer
This plant light with timing function and auto on/off function let you can time it to 3, 6, 12 hours as the plant needs. With auto on/off function, there is no worry about plant withering when nobody at home. Plant light will be restarted automatically the next day without manual operation.
Full Spectrum Grow Light for Indoor Plants
Grow light offers full spectrum from 380 up to 800nm from which plant can absorb all lights it need. With eye-care light like sunlight, it will take care your plant and you in every moment.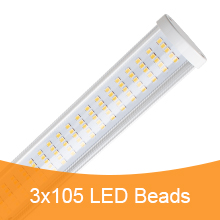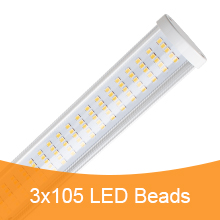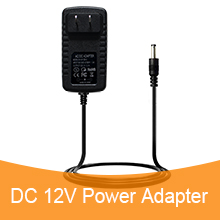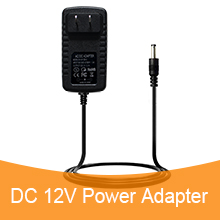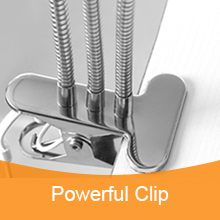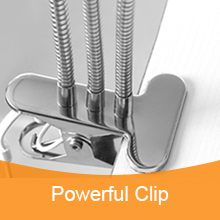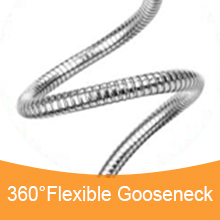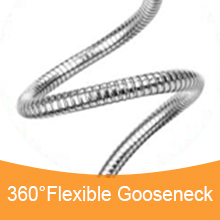 Grow Light has a total of 315 lamp chips. emits all wavelengths from 380 nm to 800 nm
Adopt 12V/2.5A DC adapter, more efficient than USB adapter, more brightness, safer and the power is no easy to break.
The clip is made of high-quality materials and can be stably clamped on any surface up to 2.6in/6.6cm.
Made of high-quality aluminum tubing that makes you randomly adjust to an ideal illumination angle and distance for your plants as they need.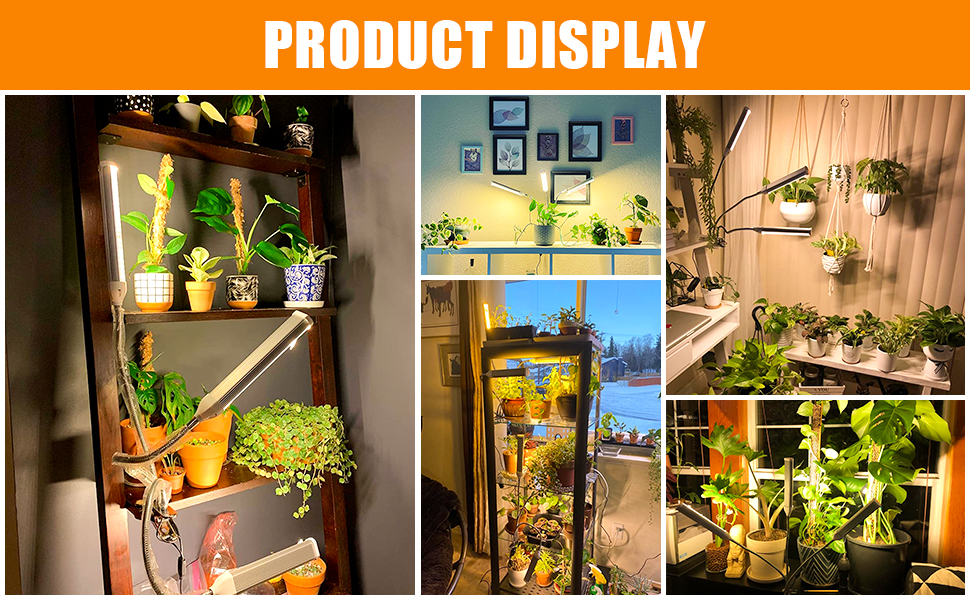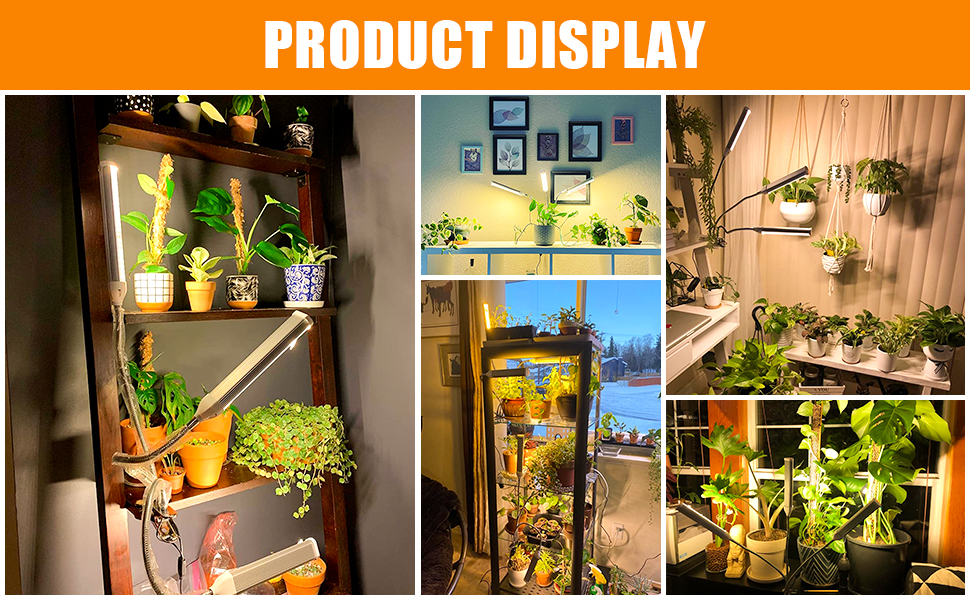 LED Quantity
315 LEDs 80 LEDs 80 LEDs 105 LEDs 384 LEDs 105 LEDs
Placement Type
Clamp Grow Light 15-48 Inch Adjustable Stand 15-48 Inch Adjustable Stand 15-48 Inch Adjustable Stand 4 Pack Light Strips 15-48 Inch Adjustable Stand
Timer Function
3/6/12H 4/8/12H 4/8/12H 4/8/12H No timer 4/8/12H
Dimmable
✓
✓
✓
✓
X
✓
Included Remote
X
✓
✓
✓
X
✓
LED Bulb
Warm White Red/Blue/Warm White Red/White/Warm White Red/Blue/Warm White Red/Blue/Warm White Red/White/Warm White
Package Dimensions ‏ : ‎ 14.41 x 5.2 x 3.58 inches; 2.07 Pounds
Item model number ‏ : ‎ BL-E150A
Date First Available ‏ : ‎ May 19, 2019
Manufacturer ‏ : ‎ HIGROW LED
ASIN ‏ : ‎ B07MB15WS5
3 head grow lamp: Three Heads achieve 360-degree coverage of plants and makes it more convenient and safety to use
360 Degree Adjustable Gooseneck – This plant light with 360 degree flexible neck and clamp is easy to adjust and place anywhere. The Wide linear light design let it can cover a larger area and provide energy for more plants
SUITABLE FOR balconies, greenhouses, darkroom, office and so on. Widely apply to the culture solution, gardening, family balcony seeding / seedling / breeding, Flower Show, potted plants, especially when the plant needs extra light when raining, snowing, dark indoor, etc.
Worry-Free Warranty: 12 months warranty plus 30 days satisfaction or return guarantee, 100% money back