OPPRUI Grow Light with 960pcs Samsung Diodes LEDs, 400W Full Spectrum Plant Grow Lamp for 3×3 Coverage Indoor Plants Veg and Bloom, Hydroponic Growing Lamps Actual Power
$499.99
Description
Price: $499.99
(as of Apr 18, 2023 05:24:04 UTC – Details)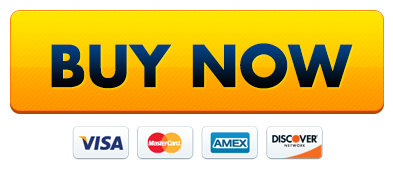 Product Description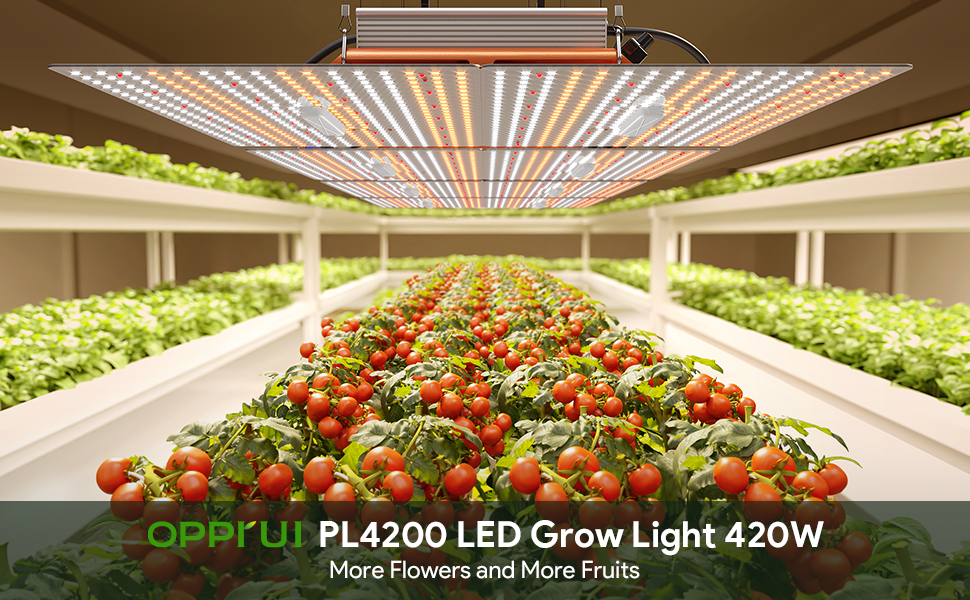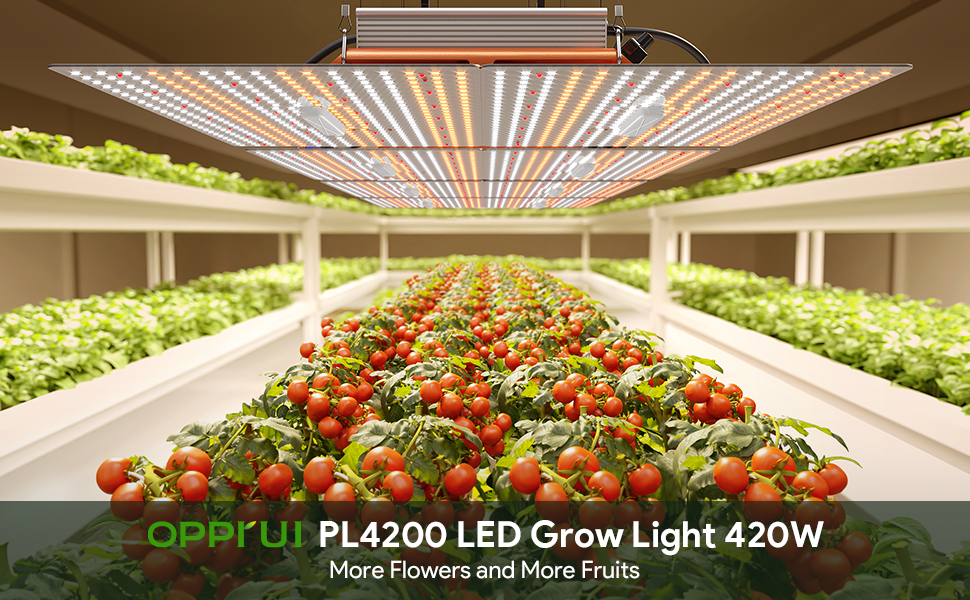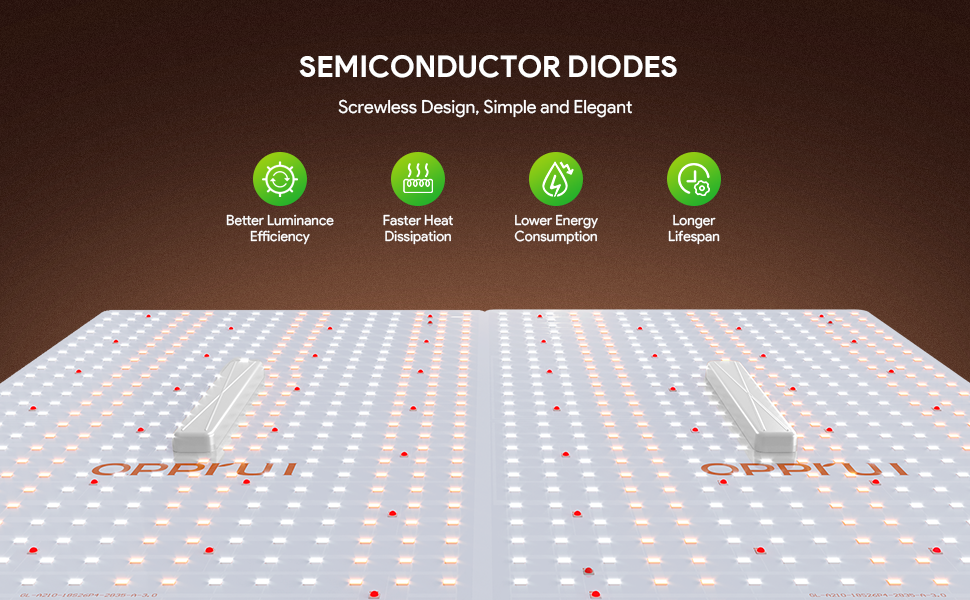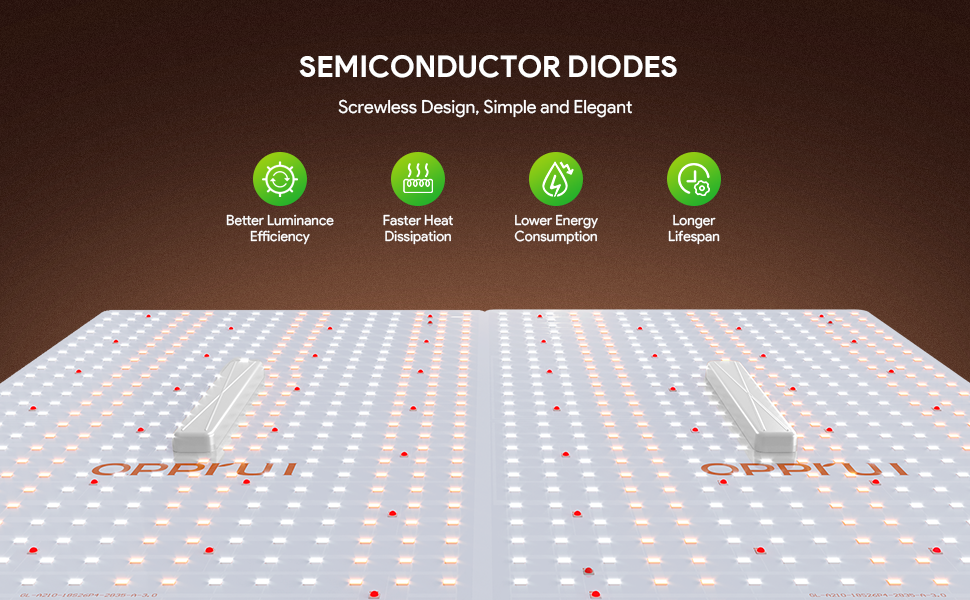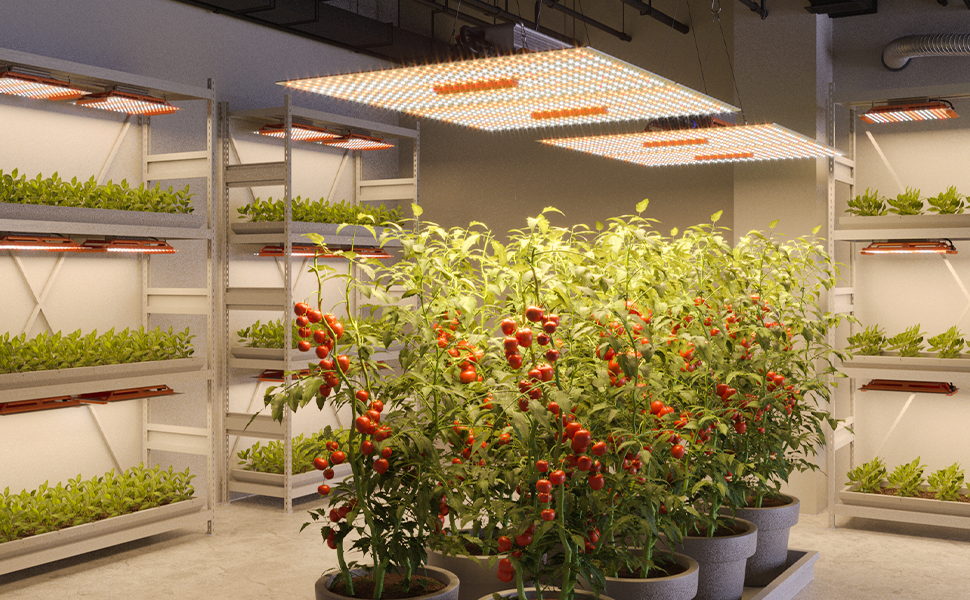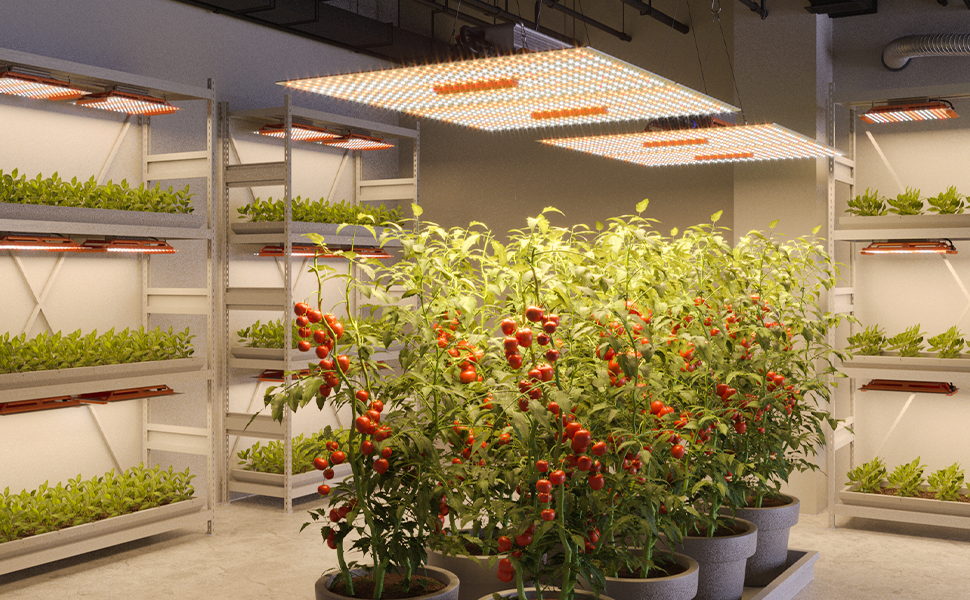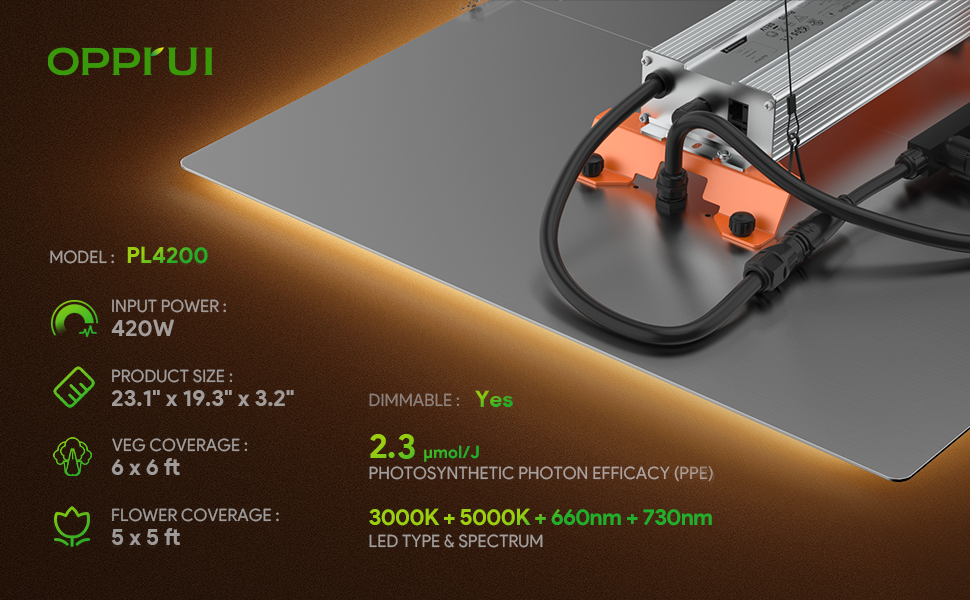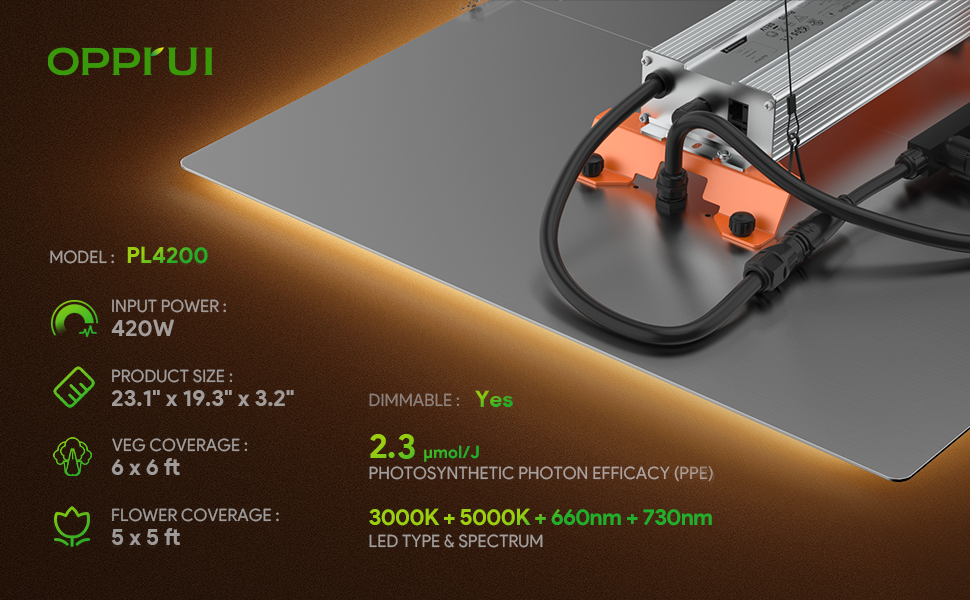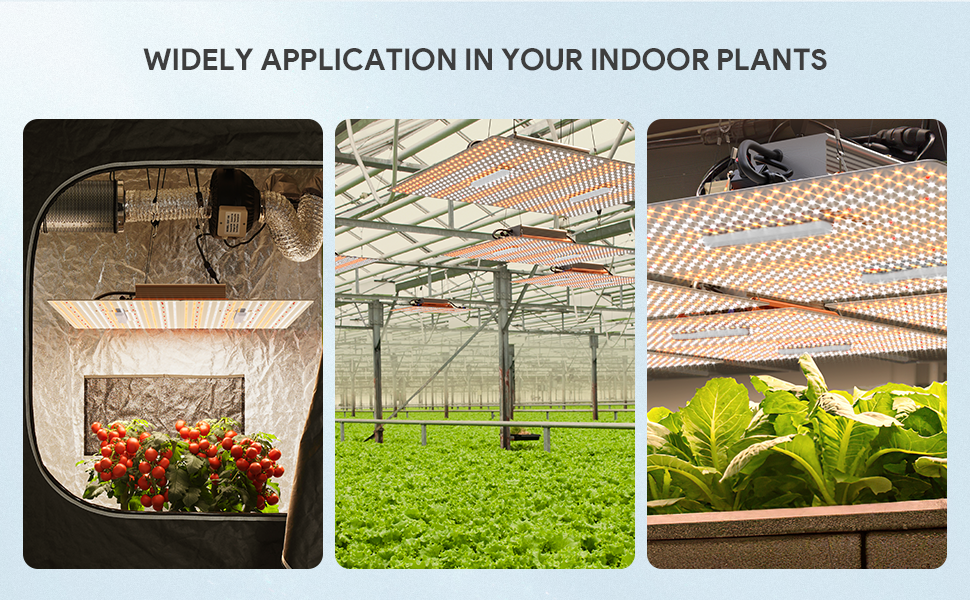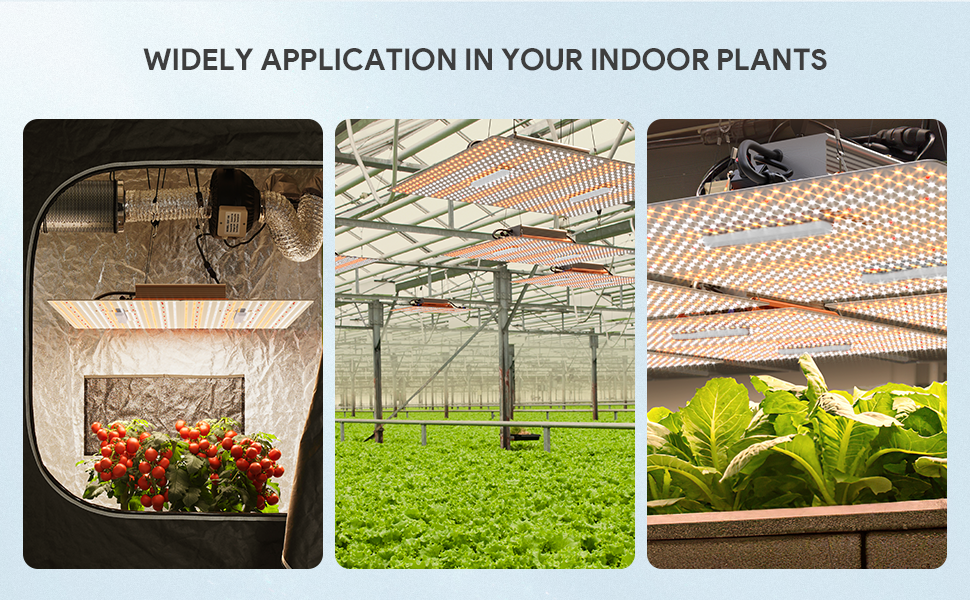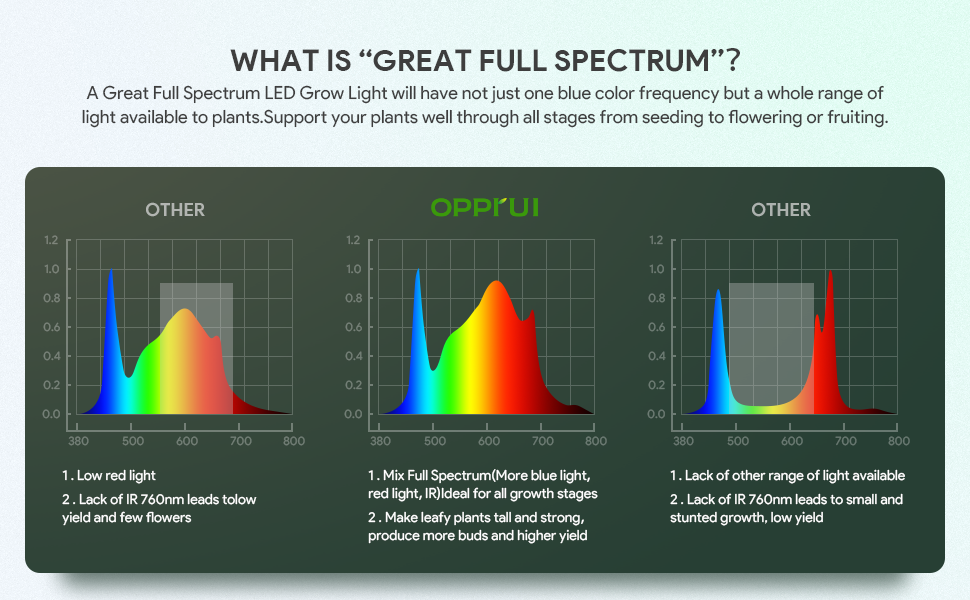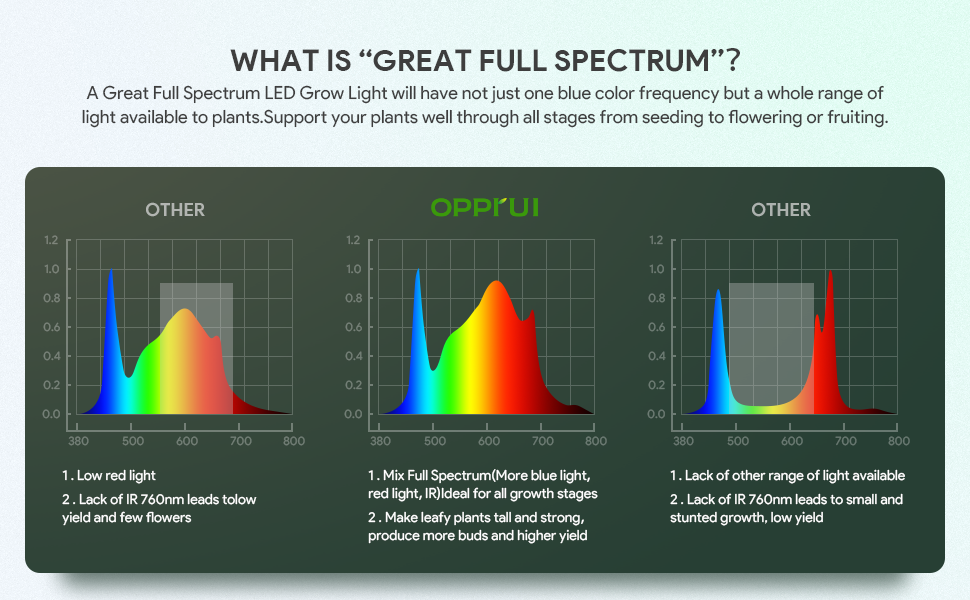 Power Consumption
400W 100W
PPFD
2312μmol/m²s@12″ 1182μmol/m²s@12″
Veg Coverage
6 x 6 ft 3 x 3 ft
Flower Coverage
5 x 5 ft 2 x 2 ft
Light Dimension
23.1 x 19.3 inches 12.6 x 9.4 inches
PPE
2.3 umol/J 2.2 umol/J
Product Dimensions ‏ : ‎ 1 x 1 x 1 inches; 12.2 Pounds
Item model number ‏ : ‎ PL1000 PL4200
Date First Available ‏ : ‎ February 7, 2023
Manufacturer ‏ : ‎ OPPRUI
ASIN ‏ : ‎ B0BV2V3SFY
Country of Origin ‏ : ‎ China
【Latest Samsung Diodes Technology】OPPRUI PL4200 use high-performance latest LED technology to provide the highest PAR/LUMEN output up to PPFD 2312μmol/m²s@12″, Perfect for veg coverage 6x6ft and flower coverage 5x5ft, Product size 23.1 x 19.3 x 3.2 inches. It has 890pcs Samsung LEDs can provide better light efficiency than other brands. More advanced technology, better efficiency.
【Sunlike Full Spectrum LED Light & Dimmable Function】OPPRUI PL4200 Brightness can be adjusted from 0 to 100%, full spectrum is composed of 3000K warm white, 5000K natural white, 660nm red light and 730nm IR light PPE 2.3 umol/J. Infinite close to natural sunlight, suitable for all plants at all stages indoor growing, speed up the plants from seed to flower, achieve maximum quality and quantity, much better than traditional HPS grow light, HID lamps and other plant lamps on the market.
【Unique Patented Design】Screwless waterproof surface design elegant and safer, No fan noise free sleep friendly, Special aluminum plate combines high reflection and fast heat dissipation, Stable and low-consumption driver, 4 colors high efficiency Samsung LEDs, Electrothermal separation unique bracket safe and heat dissipation.
【OPPRUI Guarantee】We are confident to promise each of our plant grow lights has passed the indoor planting test successfully in our American local laboratory farm, in order to really make you a good harvest. We offer lifetime local after-sales service and professional guidance to help your plants grow better, Please feel free to e-mail us.