Wohohoho 2.2lbs Mini Hydroponics Clay Pebbles, Upgraded 3mm-5mm Hydro Ceramsite Balls
$12.99
Description
Price: $12.99
(as of Apr 18, 2023 00:13:23 UTC – Details)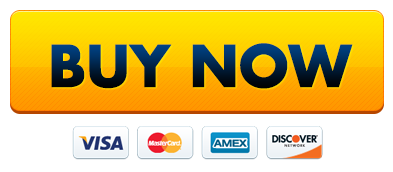 Product Description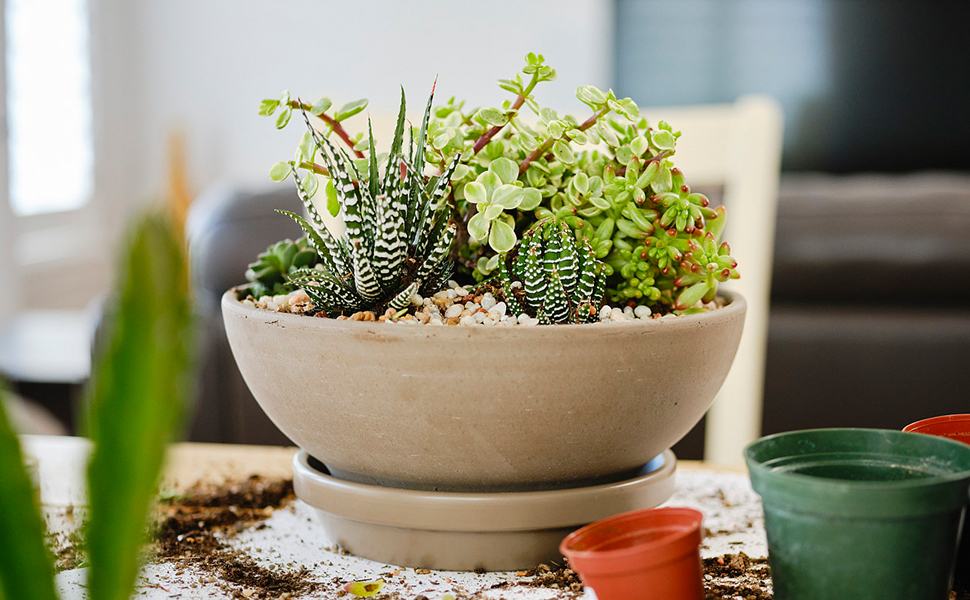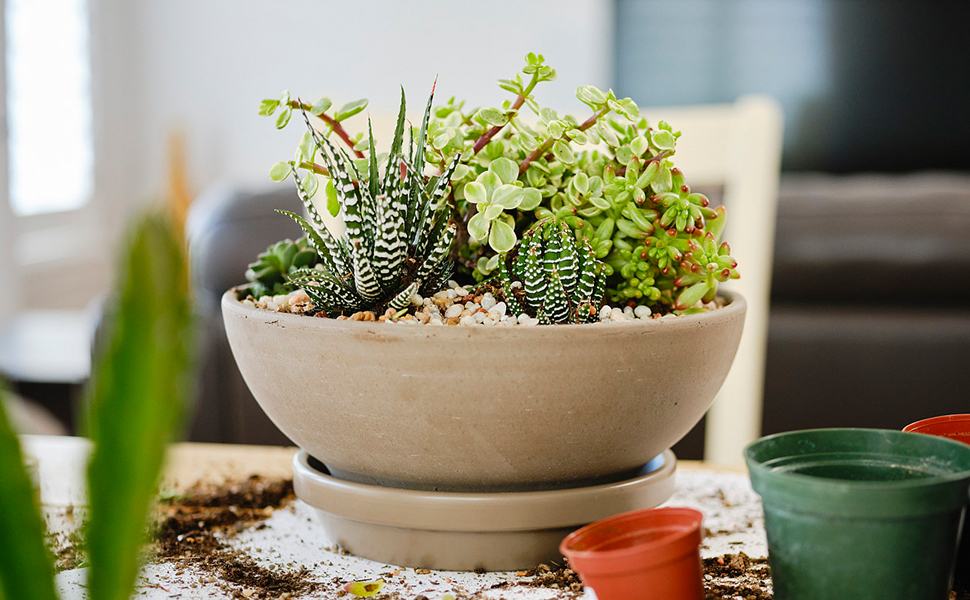 wohohoho Clay Pebbles
WHY CHOOSE US?
1. High quality: This Clay Pebbles are made of natural clay. Non-toxic, color won't fade away through time.
2. Multifunction: The clay pebbles is good for home decoration, filled in potted plant, dish gardens, terrariums and more.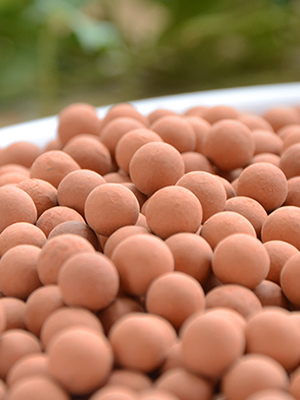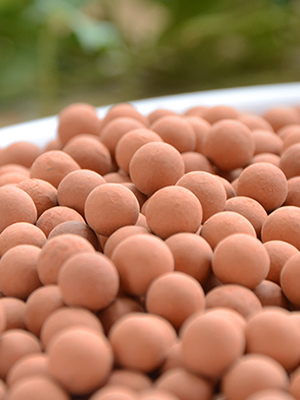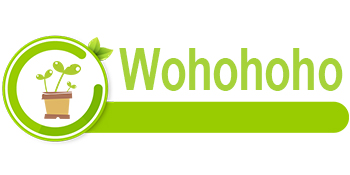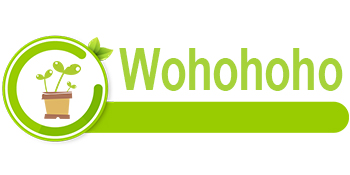 Product Specifications:
Proper rocks is a necessary to make your plants not only a pot with a plants. When bonsai is becoming a mini garden, a mini park or even a mini mountain, add some rocks, is very important.
Material: Nature clay Size: approx 0.12"-0.19"( 3-5 mm) Weight: 2.2 lbs (1000 Grams) Package: reusable bottle Resists fading for long-lasting beauty
wohohoho Clay Pebbles
Multifunctional
Perfect for home decor projects: floral arrangements, vases, bowls, display canisters, pillar candle in hurricane glass, cactus, terrarium, bamboo plants, aquariums, rock gardens, potted plants, and much more.
√ Top Dressing for more finished look √ Top Dressing to stable plants √ Top Dressing to keep the soil form shifting around √ Mixed with soil mix to help plants breath √ Mixed with soil mix to improve drainge √ Add as buttom pad in pots to help extra water flow out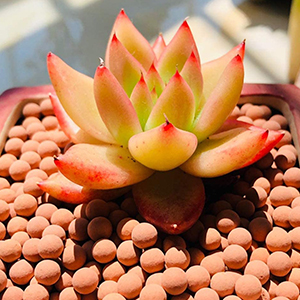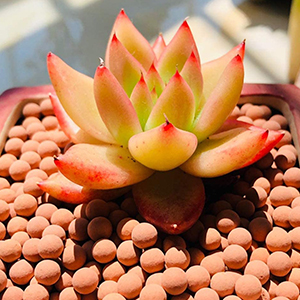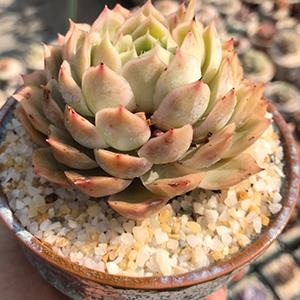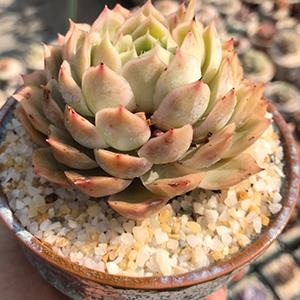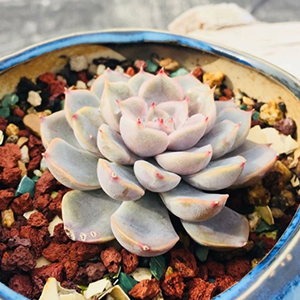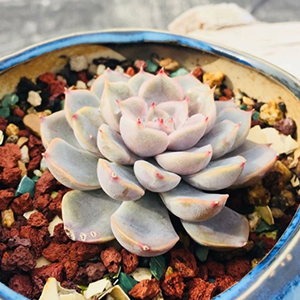 Clay Pebbles
This natural clay is mined, formed into pellets, then kiln fired at high temperatures to cause the clay to expand into tough, lightweight balls. Clay naturally has balanced capillary action, with an ideal surface structure.
Golden Sand Stones
Besides for as bonsai top dressing rocks, these sand stone rocks is also widely used in Aquariums to help absorb impurity and keep water clean.
Gritty Mixed Rocks for Succulents and Cactus
This colorful mixed rocks are famous for their multi colors, usually are called rainbow stones. It is light weight and of larger grains, therefore, they are usually used to mixed with pre-mixed blend to help plants breath and avoid over watering. They are also great for using as top dressing rocks or as bottom rocks to improve drainage.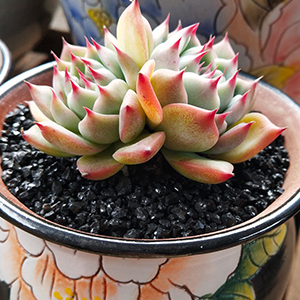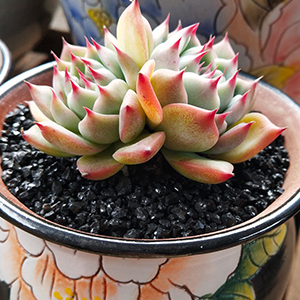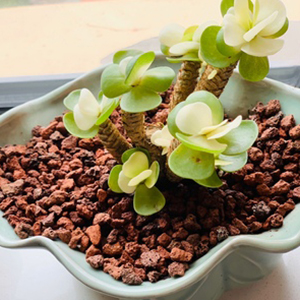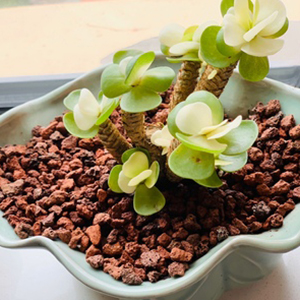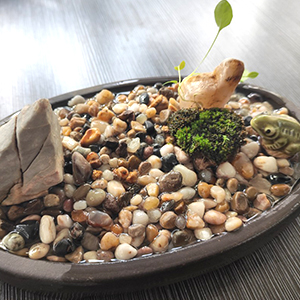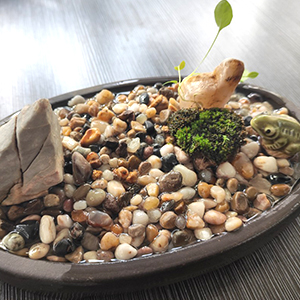 Sparkle Black Galaxy
You can use this as top dressing when repotting your mini succulents. You will love the little bits of sparkle in your mix.
Red Horticultural Lava Rock
The red lava prewashed with no artificial fillers or colors. This is a premium quality lava rock substrate for potting Bonsai, succulents, cacti, and other plants.
Natural River Rocks
This river rocks are natural lightly polished for smooth effect, comes in a variety of natural colors, Resists fading for long-lasting beauty. The color of this river rock is natural so it may include a variety of different shades of browns, whites, yellow and black rocks.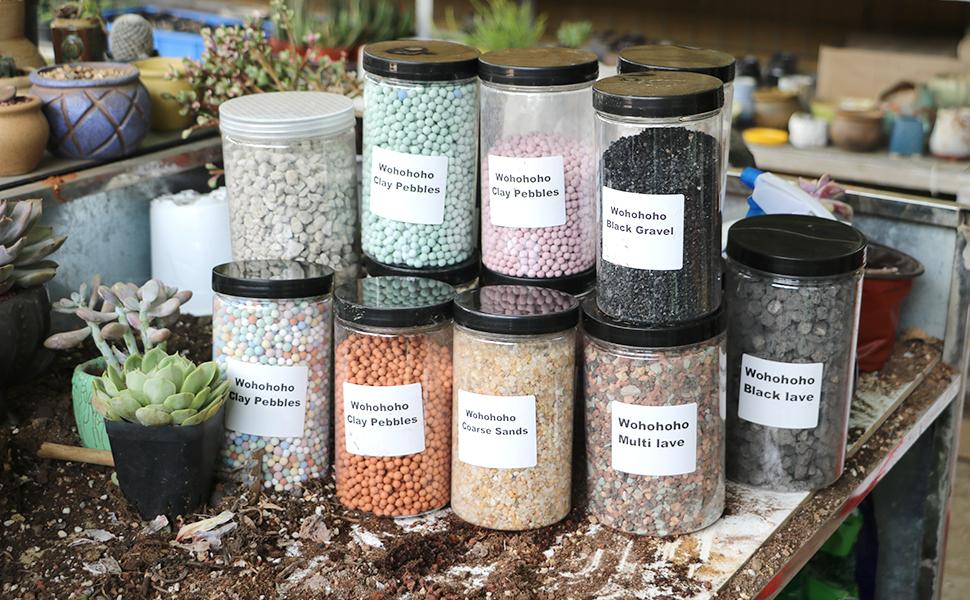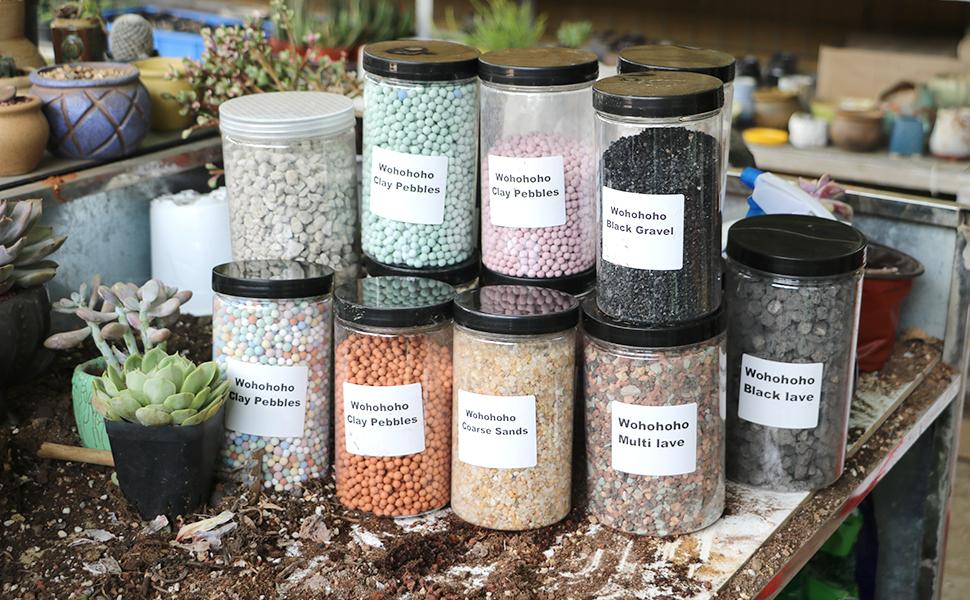 Size
2.5 liters 2.5 liters 2.5 liters 1 liters 1 liters
Diameter
0.12"-0.19" 0.12"-0.19" 0.12"-0.19" 0.5 inch 0.39 inch
Function
Drainage or top dressing Drainage or top dressing Drainage or top dressing Drainage or top dressing Drainage or top dressing
Size: 4mm in average. Very rounded small pebbles.
Upgraded mini LECA Clay Pebbles: They hold water for a longer time than traditional leca so you don't need as large of a reservoir. They are clean, not nearly as dusty as traditional leca, so you don't need to take a lot of the time to get rid of the dust and debris. They are pretty small and uniform clay prbbles balls, the traditional LECA is just too big for small plants. They are also much gentler on the roots, it's perfect for more fragile root systems.
Decoration Rocks: These clay pebbles look great, perfect color and texture, much better than just seeing a bunch of dirt/soil in the pots. No fading, no peeling. We are also offering black sand / gold sand / lava rocks / polished rocks in Amazon.
Eco-frendly Material: Made from natural clay, formed them into beads, then bake them into tough lightweight balls at a high temperature. Non-toxic and tasteless, green and environmental friendly, will not hurt your plants or fish.