CO2 Controller, Briidea Day and Night Programmable CO2 Controller and Monitor for Greenhouses, Remote CO2 Sensor
$119.99
Description
Price: $119.99
(as of Apr 19, 2023 12:34:35 UTC – Details)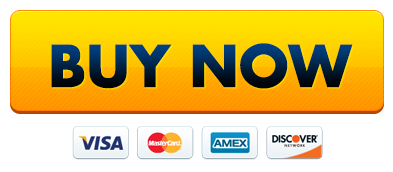 Product Description


The Briidea CO2 controller & monitor can be used in greenhouses, growrooms, hydroponic rooms and other places where elevated carbon dioxide levels are used to maximize plant growth.
Greenhouse Mode: The controller lets you set high and low target CO2 levels and when CO2 levels get too low, power is supplied to a generator or regulator. When the CO2 level is reached, the power turns off.
Ventilation Mode: When the CO2 concentration level is too high, you can switch to the ventilation mode and connect the fan to reduce the CO2 concentration level.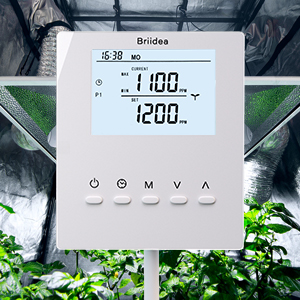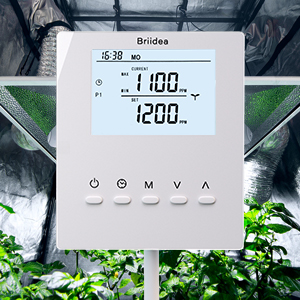 Specification Input Voltage: 100-240Vac 50/60Hz Load Max Current: 16A@120Vac/10A@220Vac Load Max Wattage: <1850W (3/4hp) CO2 measurement range: 0-5000ppm CO2 measurement accuracy: ±50 ppm or ±5% of reading CO2 display accuracy: 1 ppm Ambient temperature: -20℃-60℃/-4℉-140℉ Humidity: 0%-95%RH
Main Features
NDIR CO2 Sensing TechnologyAccurate CO2 Generator ControlLarge LCD Displays Detailed InformationSimultaneously Displaying Current ppm and Setting ppmGreenhouse Mode and Ventilation ModeProgrammable Function that Turns off CO2 at NightEasy to Use FunctionalitiesScreen Backlight Lasts for 8 Seconds When Press Any Button Package Include
1 x Bridea co2 controller unit 1 x Remote co2 sensor 3 x Mounting screws 2 x 3M sticker 1x Installation instruction
How to install
The CO2 Monitor & Controller is easy to install and use. Simply mount the unit inside your grow room, (all cables and hardware included), plug it into a standard wall jack, plug in your CO2 generator or regulator and it is ready to maximize your plant growing yields.


4 Steps for Calibrating CO2 Sensor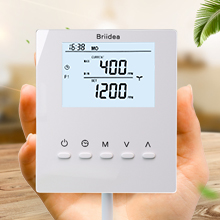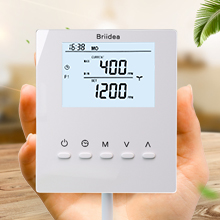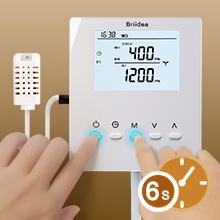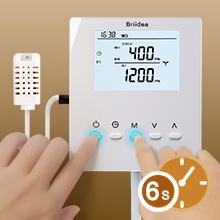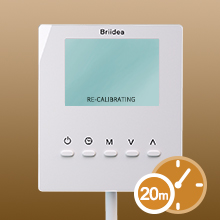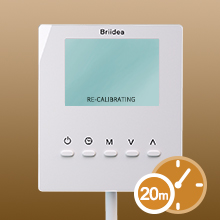 1. Take the controller outdoors where fresh air dominates.
2. Power on the controller to make the sensor warm up for 3 minutes.
3. Simultaneously hold press both Power & M button for 6 sec after warm-up ends.
4. The controller finishes calibration after "Re-calibrating" blinks for 20 minutes.
Warning! When you get our product for the first time, please calibrate the CO2 sensor first! Please make sure that the controller is working after the CO2 sensor warm-up 3 mins end.
Between growing cycles or at least once a year, you should manually re-calibrate the CO2 sensor. We recommend you use fresh air (~400 ppm) for calibrating by taking the controller outdoors, plugging it in, and following the procedure below.
Make sure the device is far from a source of CO2, not in direct sunlight, and not exposed to water. Step away from the unit during calibration.
PROGRAMMABLE FUNCTION: 6 preset function of different setting ppm for specific period of time is achieved when run in automatic mode; User can set to turn off CO2 at a specified time such as when there is no light. User can also set desired CO2 level for different plants
EASY TO USE: Directly plug the CO2 generator or regulator in the controller piggyback plug, When the CO2 level is too low, the controller will turn on the CO2 generator or regulator. When the CO2 level is reached, the power is turned off, Save your time and trouble
SAFE AND RELIABLE DESIGN: 1800W allowing users to connect the controller to a higher-power appliance; UL-Listed components ensure the stable quality of the whole product's safety
WIDELY USED: The CO2 Controller & Monitor can be used in greenhouse, growrooms, farm, hydroponic rooms and other places where elevated CO2 levels are used to maximize plant growth