MIXJOY LED Grow Lights GL-4000d/450W Full Spectrum with Samsung LM301 LED Diodes&MeanWell Driver Daisy-Chain Dimmable Function for Indoor Hydroponic Plants (5x5ft Bloom &1212pcs LEDs)
$299.99
Description
Price: $299.99
(as of Apr 18, 2023 19:04:03 UTC – Details)
Product Description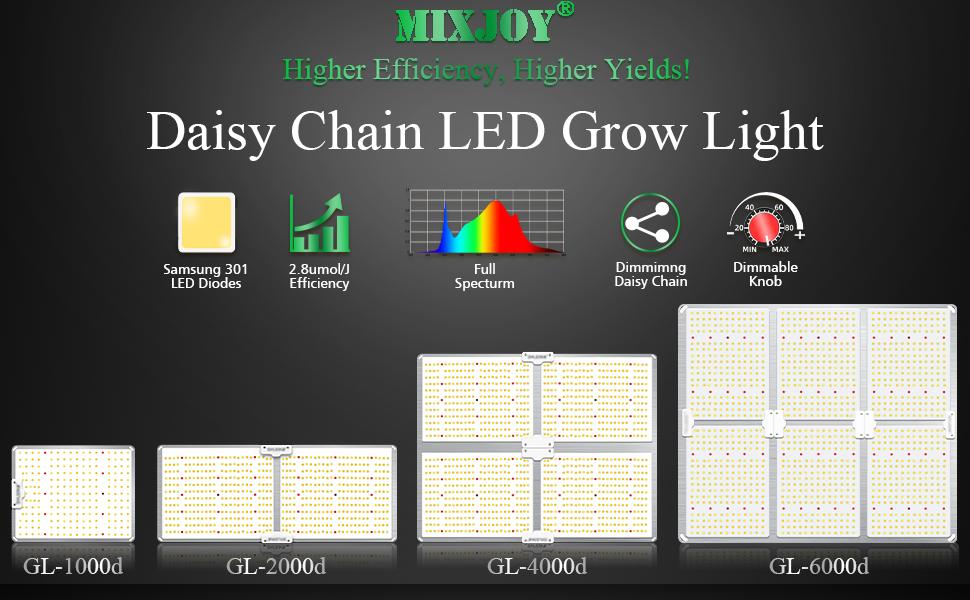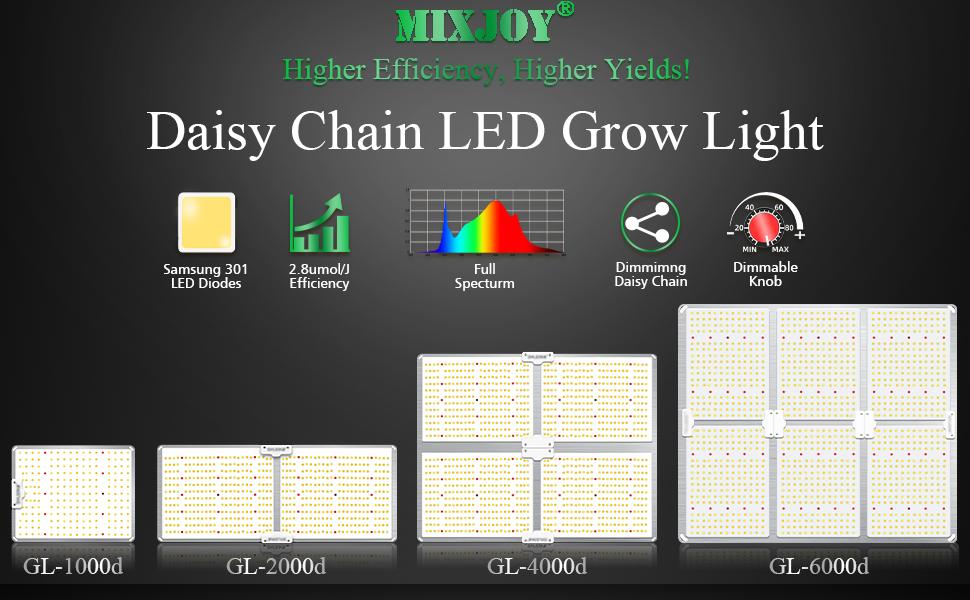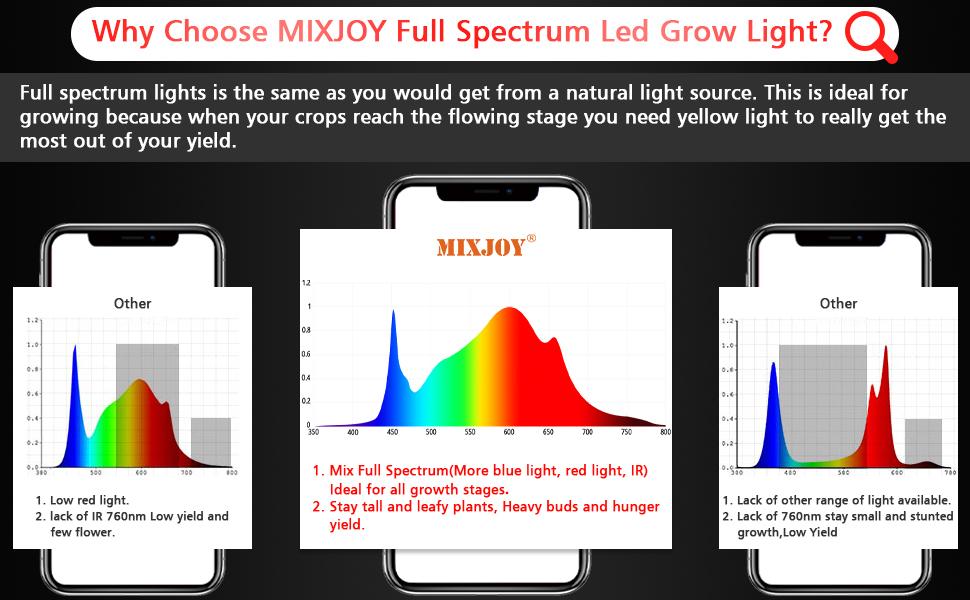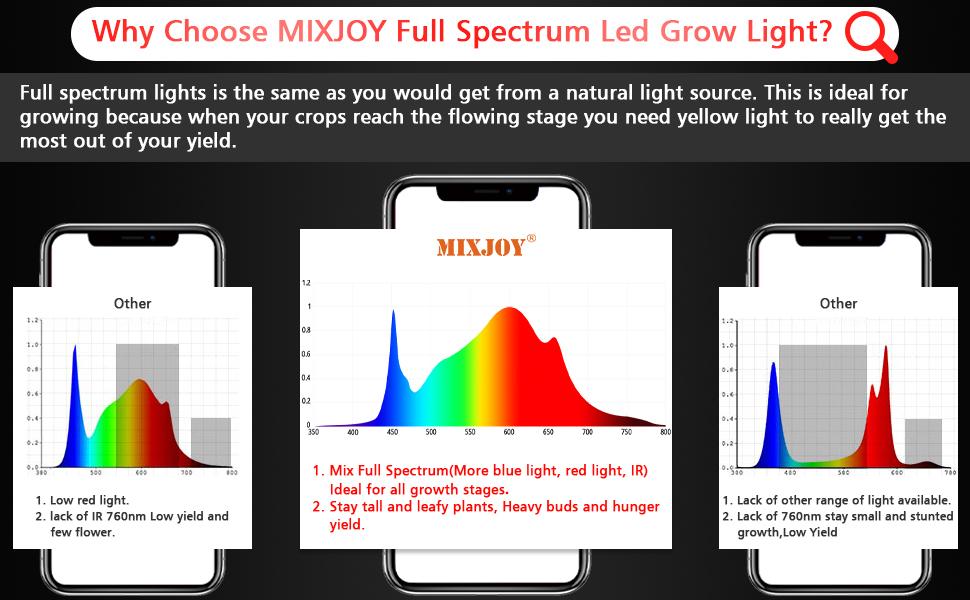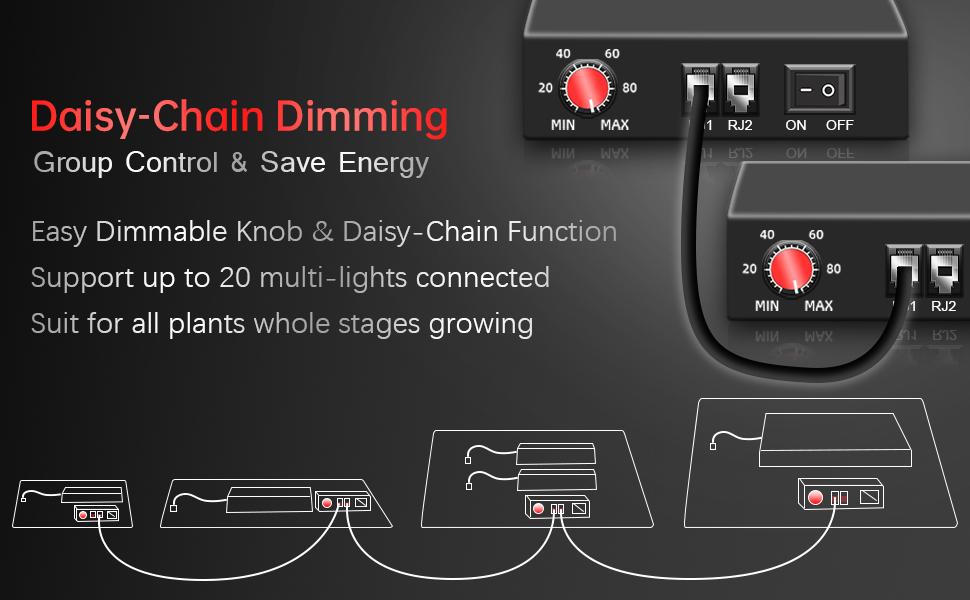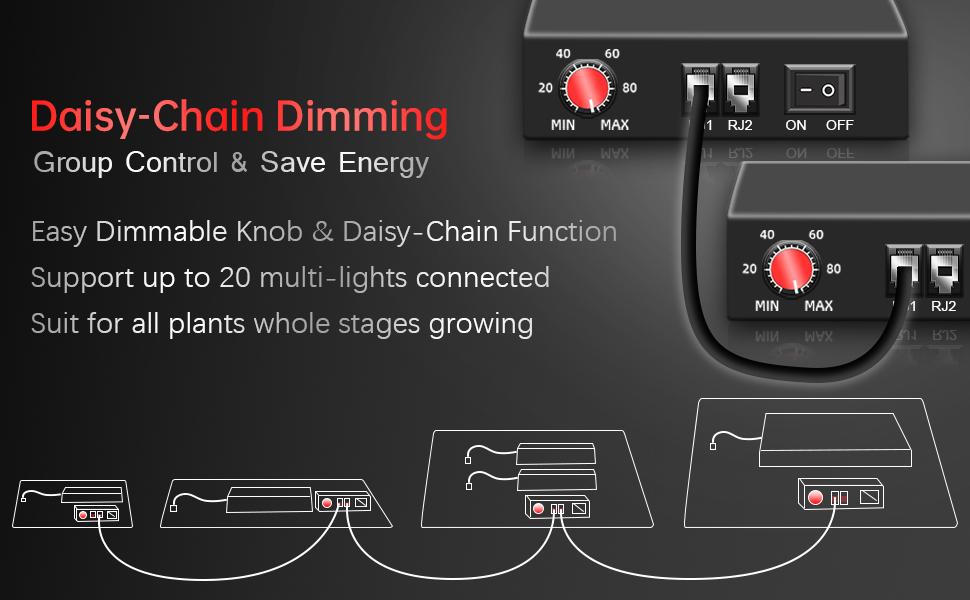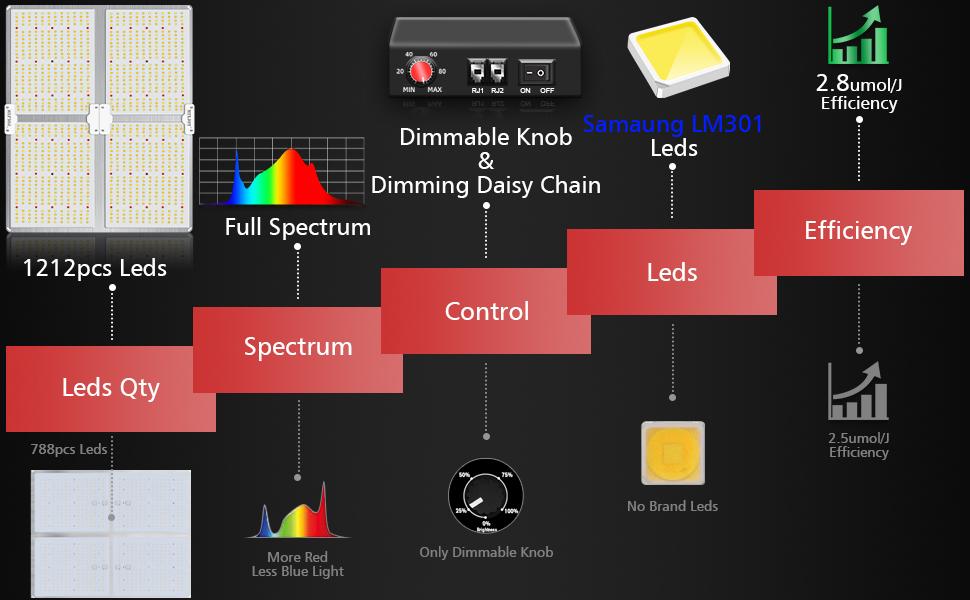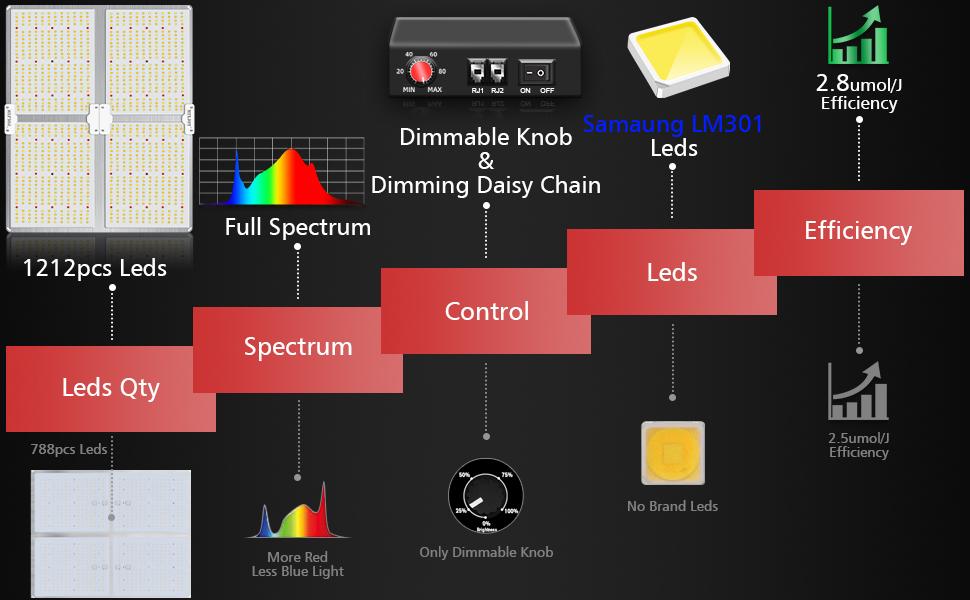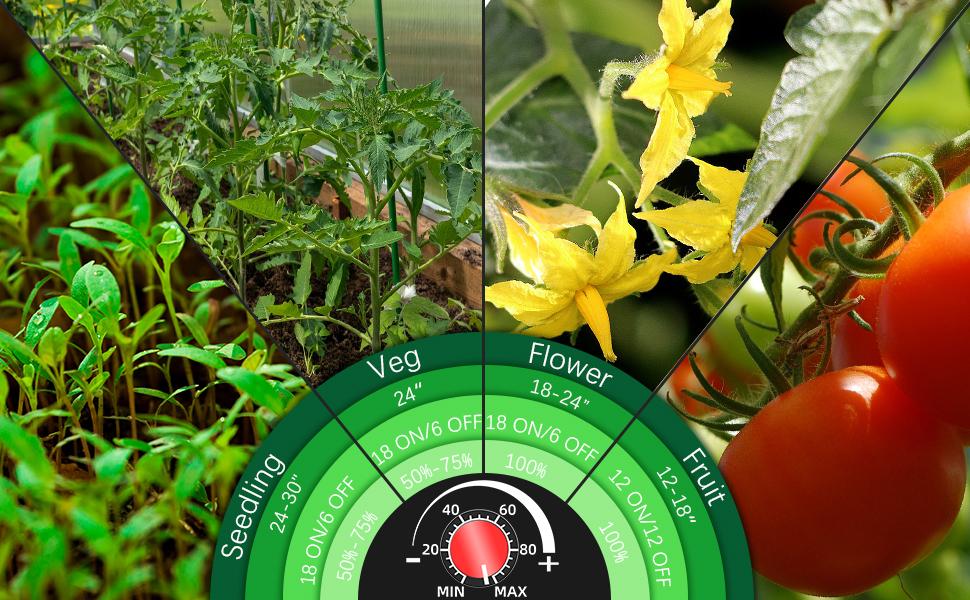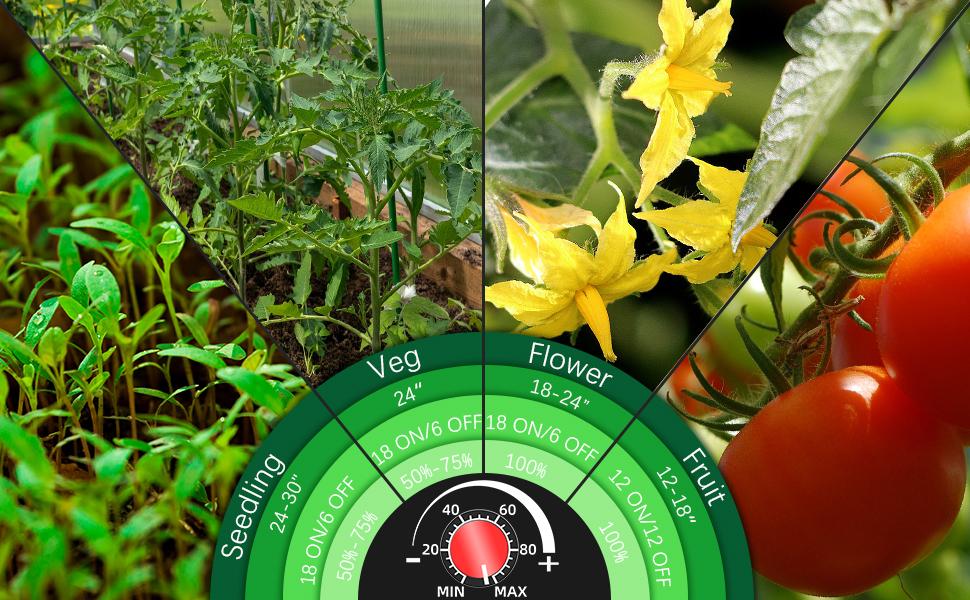 Power
110W±5% 220W±5% 450W±5% 650W±5%
Efficiency
2.8μmol/J 2.8μmol/J 2.8μmol/J 2.8μmol/J
LED Quantity
218 606 1212 1818
IR Quantity
1 2 4 6
Coverage Footprint
Veg 3×3ft Flower 2×2ft Veg 3×4ft Flower 2×4ft Veg 6×6ft Flower 5×5ft Veg 6×6ft Flower 5×5ft
Daisy Chain Dimming
✓
✓
✓
✓
Dimmable Knob
✓
✓
✓
✓
Full Spectrum
✓
✓
✓
✓
Product Dimensions ‏ : ‎ 21 x 25.4 x 2.3 inches; 20.93 Pounds
Date First Available ‏ : ‎ October 16, 2020
Manufacturer ‏ : ‎ MIXJOY
ASIN ‏ : ‎ B08L9J93D1
【HIGH EFFICIENCY & HIGHER YIELD】 MIXJOY Indoor Plant Light is equipped with latest High Efficient Samsung LM301 LED series diodes and Dimmable MeanWell Driver, high efficiency up to 2.8 umol/J and powerful output, enabling you to obtain higher yields. Only consumes 450w, which saves up to 50% energy than HPS or other SDM LED or Blurple light. Veg footprint: 6 x 6 ft, Bloom footprint: 5 x 5 ft.
【SUNLIKE FULL SPECTRUM】 The real Sunlike full spectrum with white, blue, red and IR diodes (3000K, 5000K, 600nm and 760nm), infinite close to natural light, provide all types of indoor plants and all growth stages with full spectrum lighting and help plants grow better and healthier, bring higher yield in a shorter time. Tips: the IR LEDs look dim, but it works.
【RELIABILITY AND VERSATILITY】 No Fan&No Noise, the Fanless design bring you a quiet and better life; with high-quality aluminum heat sink board can quickly disperse heat, reducing light lost to aisles and walls, allowing your plants receive more energy; the additional waterproof function can protect the light intensity avoid the damage in a moist planting environment.
【CUSTOMER SERVICE】MIXJOY LED Plant Lights GL series can provide 3 years warranty and 30 days money back guarantee. We will always insist on providing high quality products and professional customer service on Amazon. If you have any questions, please feel free to E-mail us and we will offer you professional guidance to help your plants grow better.