Hydroponics Growing System with 12 Pods,Large Herb Garden Kit Indoor with Grow Lights,Indoor Herb Garden with Quiet Water Pump,Automatic Timer,Height Adjustable Up to 20″,Indoor Garden Gift Home Decor
$99.99
Description
Price: $99.99 - $79.99
(as of Apr 19, 2023 20:06:31 UTC – Details)
Product Description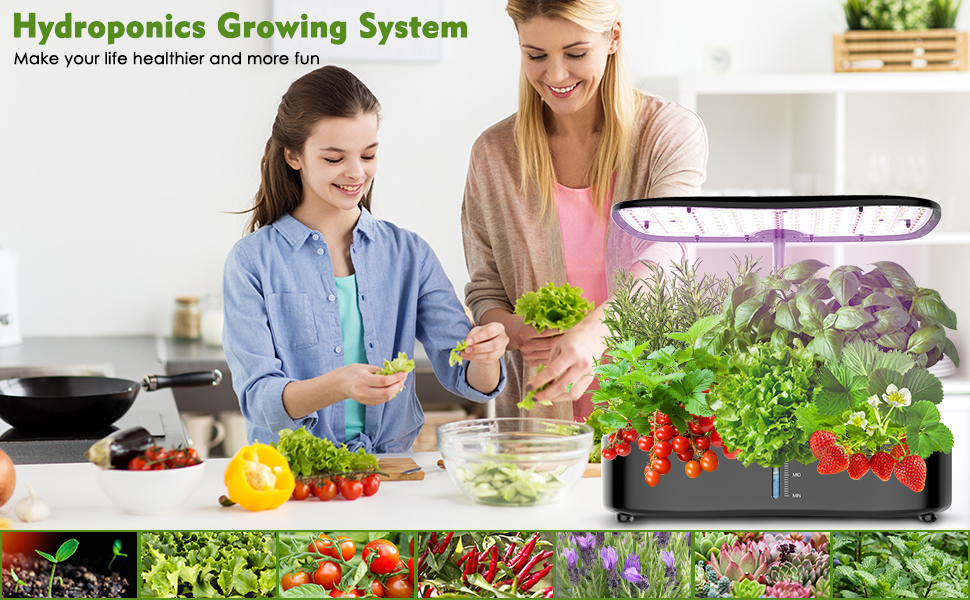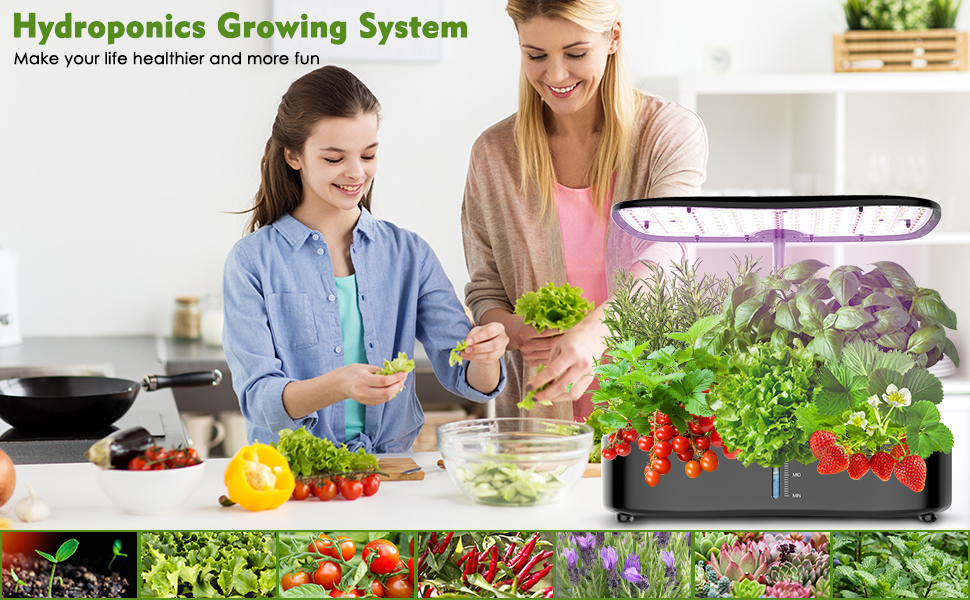 Why choose KICHGARDEN hydroponic growing system?
This hydroponic system is suitable for all growth stages of germination, flowering and fruiting of plants.
This hydroponic system is also suitable for various types of plants, such as tomatoes, peppers, etc.
You can buy it to explore the fun of growing plants with your kids.
You also can gift it to your mother or wife on Mother's Day,this will make their kitchen more convenient.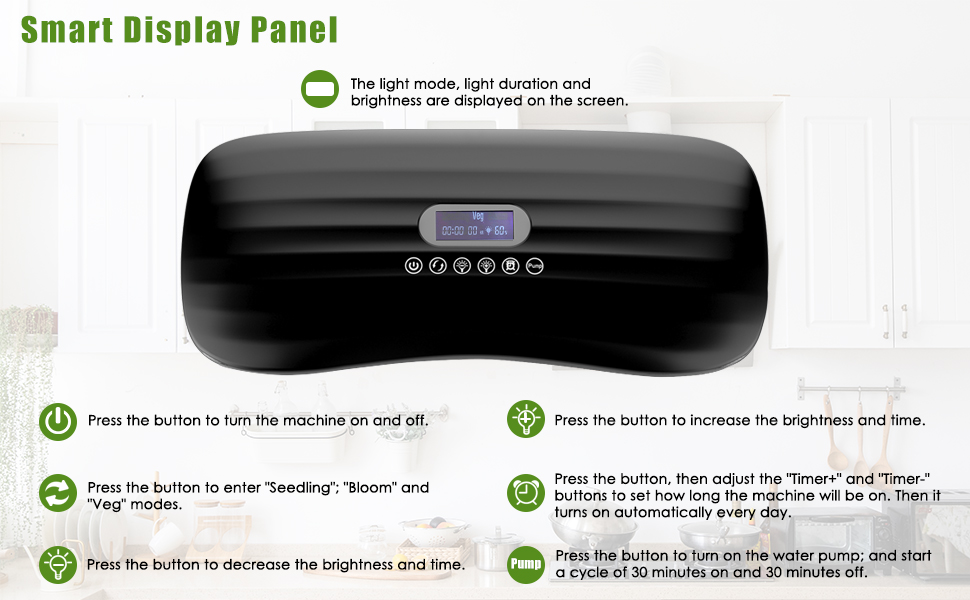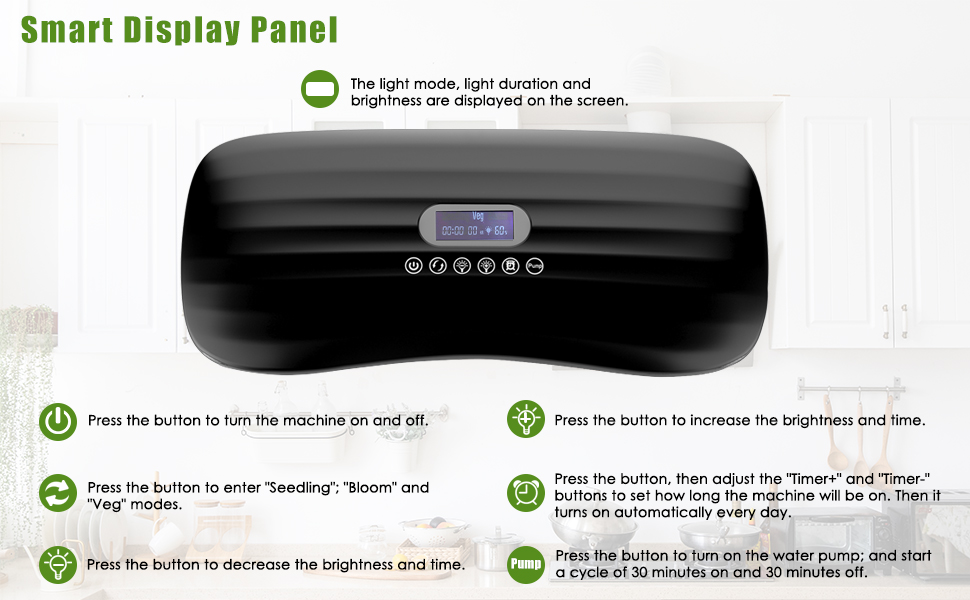 Three light modes – suitable for different stages of plants.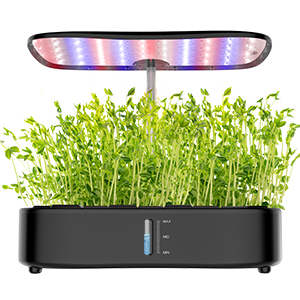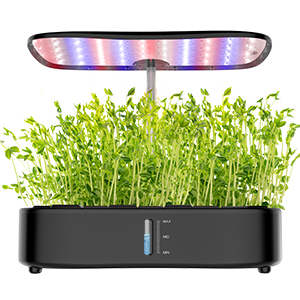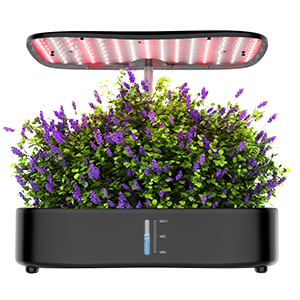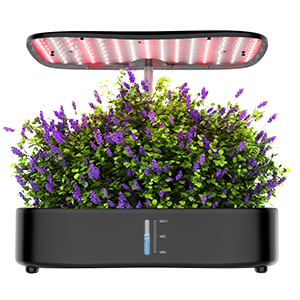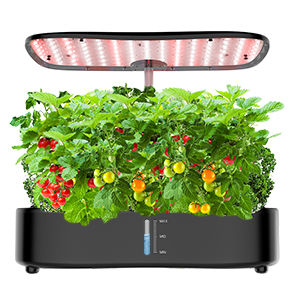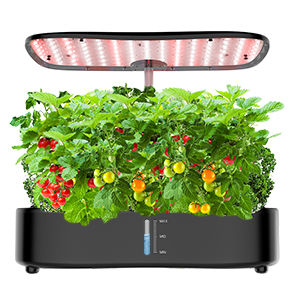 Seedling mode
When you choose the "Seedling" mode, the lights are white,blue and red, this mode is more suitable for germination and seedling period.
Bloom mode
When you select the "Bloom" mode, the light is white,red and far red, which is more suitable for the flowering period of the plant.
Veg mode
When you select the "Veg" mode, the light is white and red, which is more suitable for plant harvest time.
Help plants grow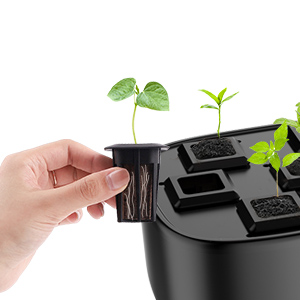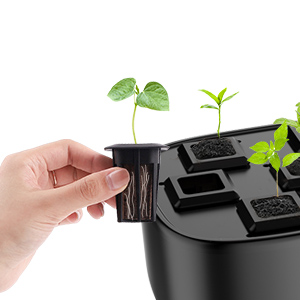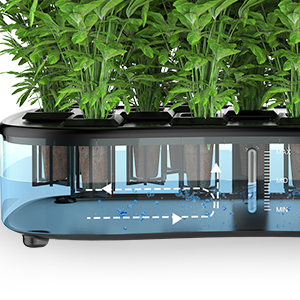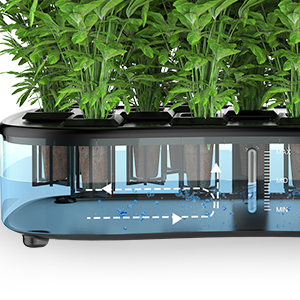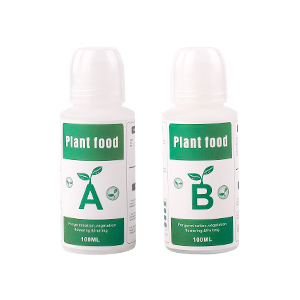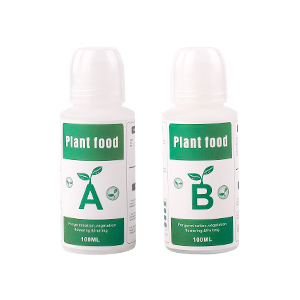 Seed Pod Kit
This hydroponic system comes with 12 planting sponges and 12 planting baskets in which the seeds can thrive, and It can also meet diverse planting needs.
If the plant grows up and needs to be transplanted outdoors, you do not need to separate the planting sponge from the roots, our planting sponge is plant material, which is convenient for you to transplant.
Water Pump
The water pump can produce oxygen without making a lot of noise.The sound of the water pump is below 30 decibels.You can even put the garden in your bedroom.
After the pump is turned on, it will automatically cycle, open for 30 minutes and close for 30 minutes.
A&B Solid Nutrition
It can help plants grow faster, 20% faster than in soil.
Fill the bottle of plant food A and plant food B up with water.Keep shaking both of the bottles until the plant food totally dissolve.Each 5ml of well-mixed A and B should be combined with 1L water.(A: B:Water=5:5:1000)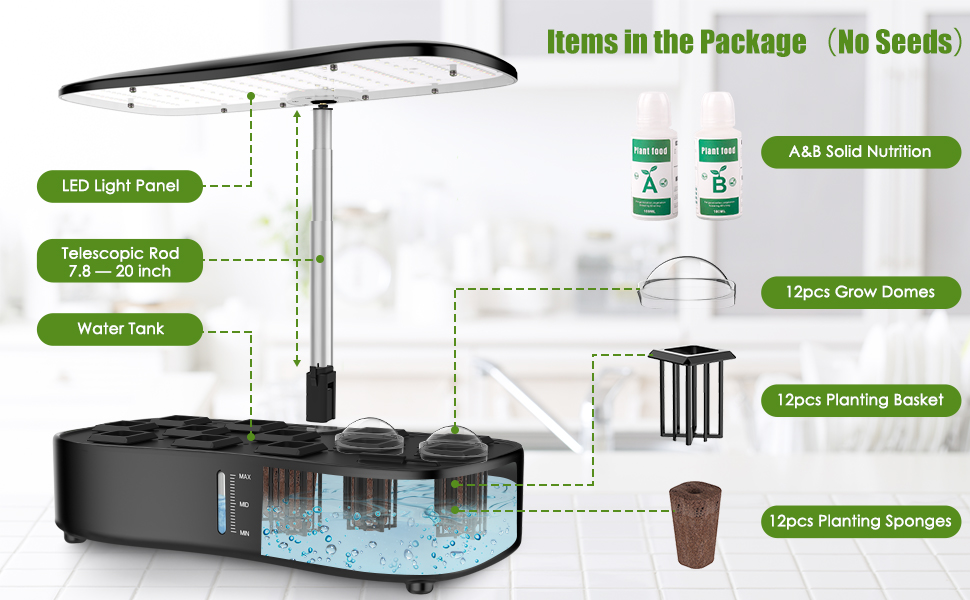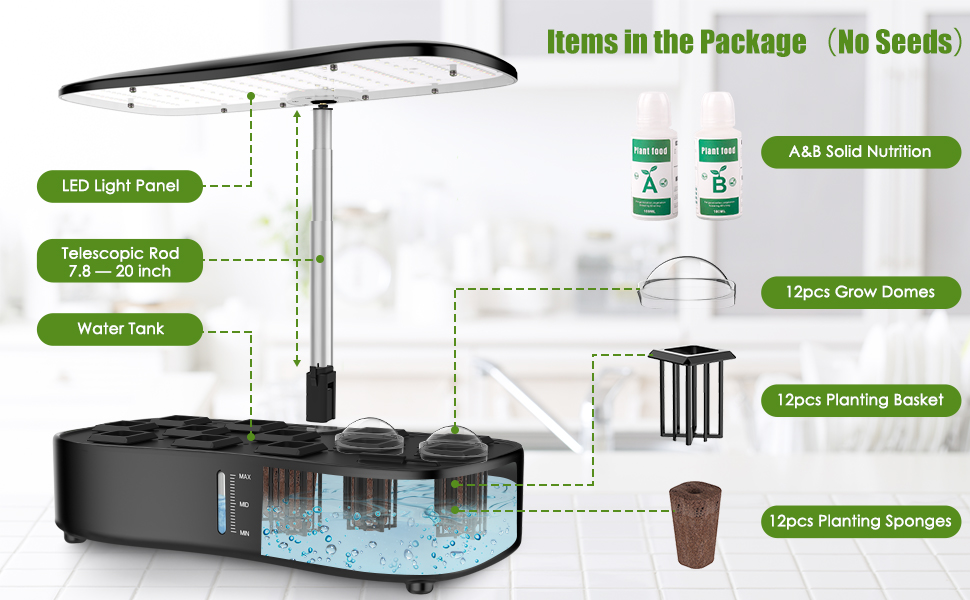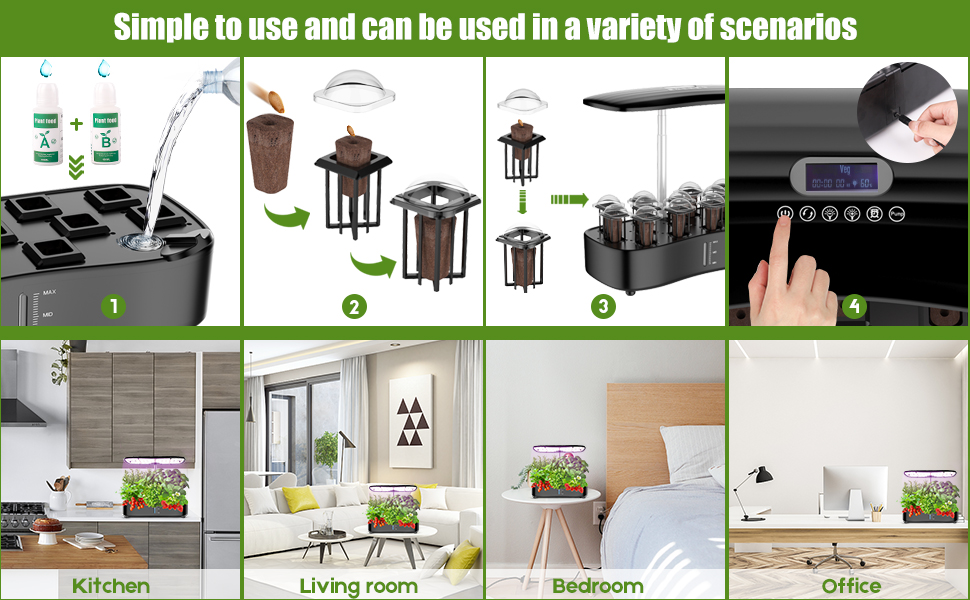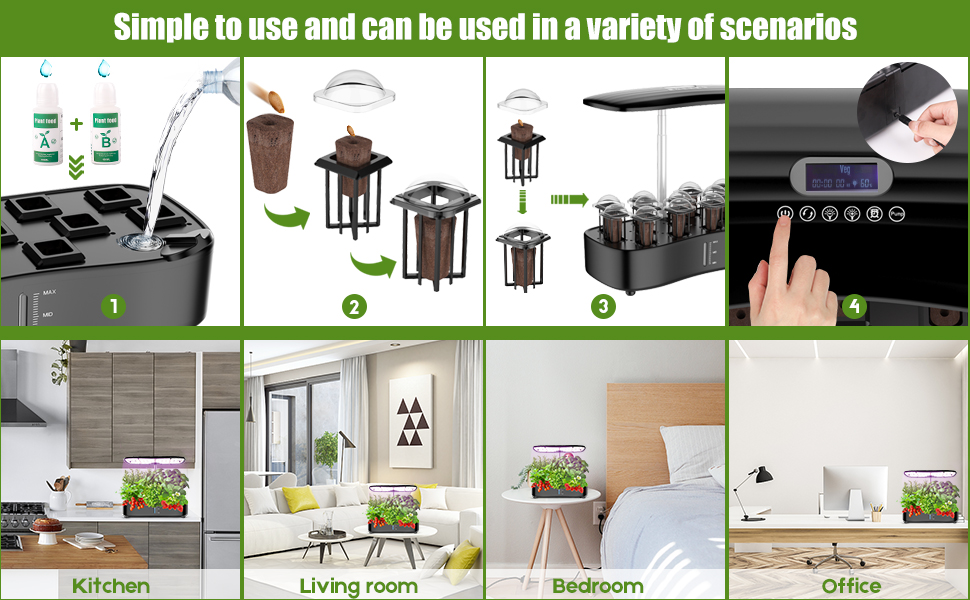 3 grow light mode for vegetable,fruit,flower bloom,indoor herb garden with grow light of 48-Watt,turns on/off automatically,you can arbitrarily set any light-on hours in a day and next day will cycle through the setting,the display at the top has a light-on countdown function, and 3 mode light button for vegetable,fruit,bloom,different spectrum lights for all kinds plant and all grow state
Quieter automatic water circulation system,herb garden kit indoor with quiet automatic water circulation system for increasing oxygen to help growing the plants,work sound under 30 db(quieter then the refrigerator),You can enjoy a deep sleep in the same room with your herb garden,independent button for turn on/off pump functon,it Work for 30 minutes after startup,automatic pause for 30 minutes,then cycle the setting
Larger capacity bumper harvest,indoor garden with 12 plant pods,which means you can grow 12 plants at a time,adjustable height up to 20 inch(higher then others) provides more space for plants to grow
Easy to use with big digital display control panel,independent function button,perfect gift for grandma,gifts for mom,house warming gifts new home,house decor,gifts for couples who have everything