LAPOND Hydroponic Grow Kit, Hydroponics Growing System 3 Layers 108 Plant Sites Food-Grade PVC-U Pipes Hydroponic Planting Equipment with Water Pump, Pump Timer for Leafy Vegetables
$147.99
Description
Price: $147.99
(as of Apr 17, 2023 23:42:24 UTC – Details)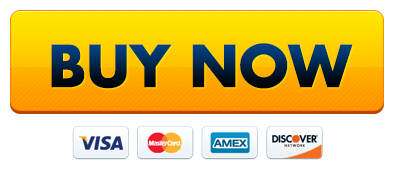 Product Description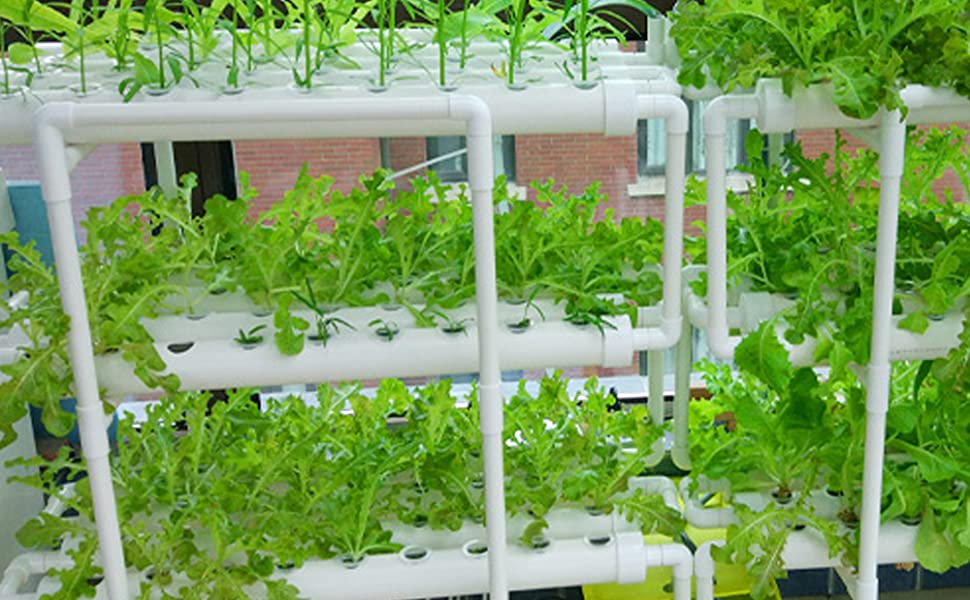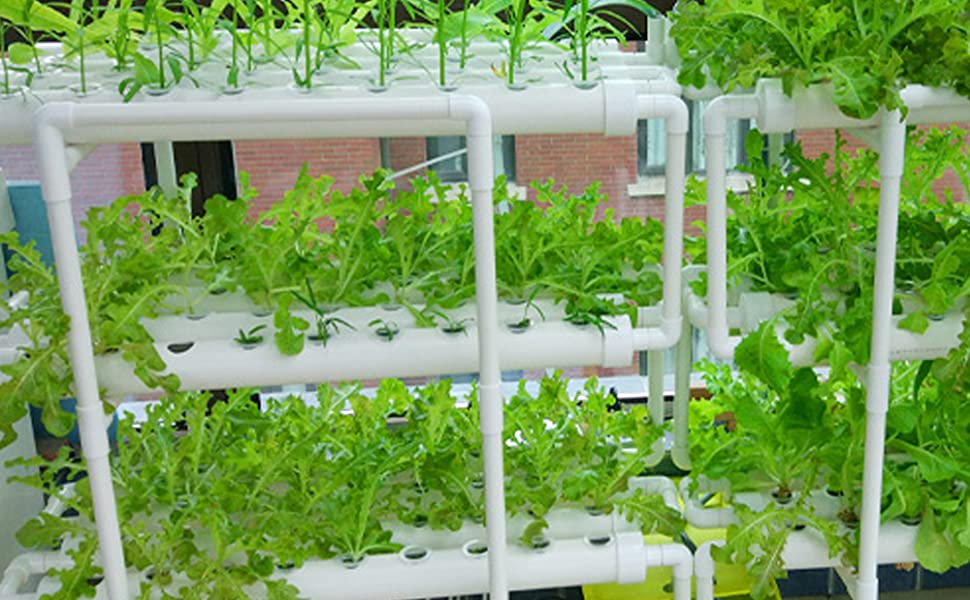 It is especially suitable for leafy vegetables in home, garden and office, such as lettuce, spinach, pakchoi, cabbage, radishes, strawberry and herbs., etc.This hydroponic site grow kit produces high-quality leafy vegetables that are more nutritious and better-tasting than soil-gardened produce because oxygenated water and nutrients are delivered directly to the roots.Also allows you to observe the growth of vegetables at any time. From germination to seedling, and finally ripening, record each process of your own planting. In the family, you can also grow with your child and study how to grow healthy vegetables. I think it is great!We provide you with the premium hydroponics equipment and services. It is our commitment to be the best indoor gardening and hydroponic store that you can trust.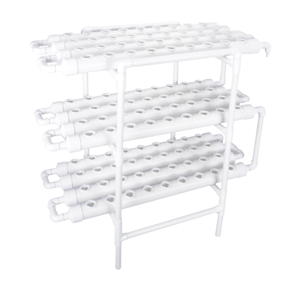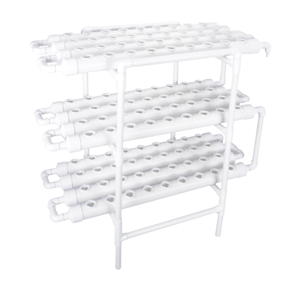 Important Note
You need to prepare one ≥20L and the height below 9.5 inches reservoir tank(not include), we advice you choose a non-transparent and covered tank. You also need to provide a power supply and nutrient solution(not include). The default setting for the pump timer is 5 minutes of power on and 30 minutes of power off,You can change the setting,please connect to power on according to the drawing,No other equipment required!Note: The water level should be sufficient so that the pump is submerged at all times, otherwise it will run dry and be damaged.Note: Do not insert the hose to the bottom of the inlet joint , only insert two or three sections is OK. The hydroponic equipment is installed without glue,to ensure the shelf is stable, please insert all the connectors to the end.Place hydroponics equipment under the sunny place to lighted at least 4 hours a day, to avoid vegetables in insufficient light lead to malnutrition.Provides a 1-year on the Hydroponic Grow Kit and accessories.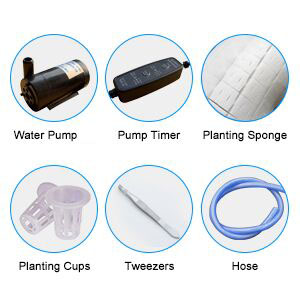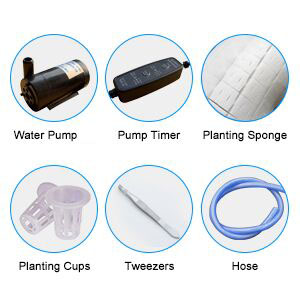 Package Included
Hydroponic Holder and Planting Pipe12V Water pump * 1Pump Timer Controller * 1Square Net Pot * 108Planting Sponge * 108Tweezers * 1Hose * 1Installation Instructions * 1/Implant Instruction*1Dimensions after installation: 37.8*19.7*41.4 in / 96*50*105 CM Food Grade Hydroponic Growing System
The PVC-U piping is food grade and appropriate for hydroponic system,The planting environment requires sunlight and ventilation. If there is no sunlight, it can also be planted with plant lights.
Advantages of hydroponics No need for weeding. Save water and nutrients. No complicated planting knowledge is required. It can be cultivated throughout the four seasons. Without being damaged by soil pests, Green cultivation is possible.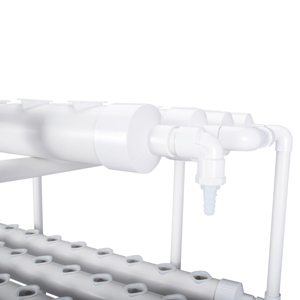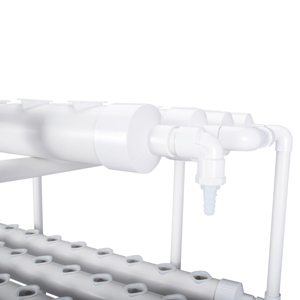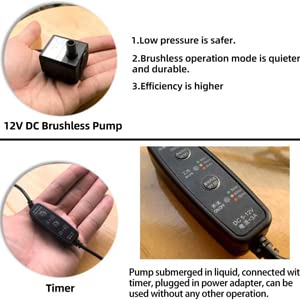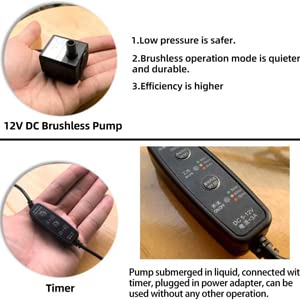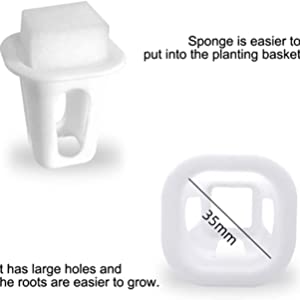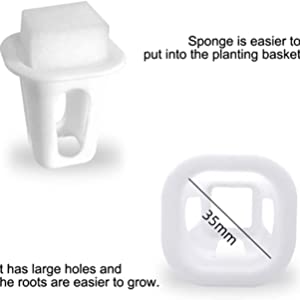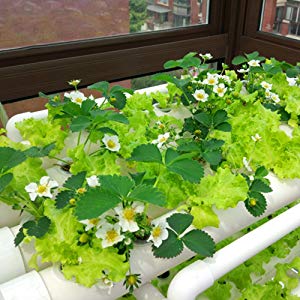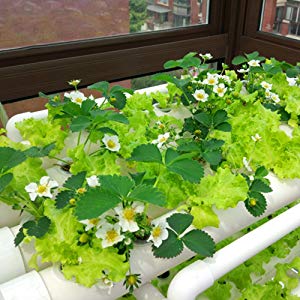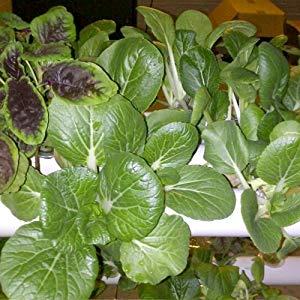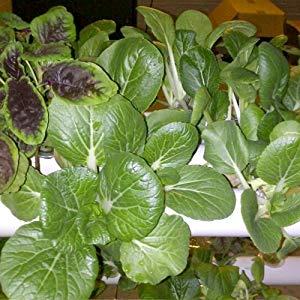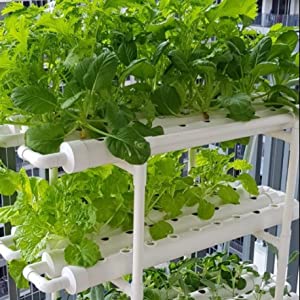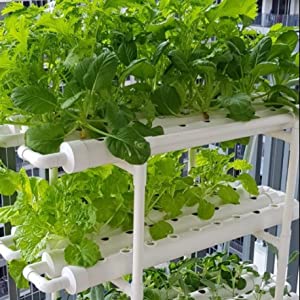 How to Hydroponic(There are tutorials for planting in our packages for you to plant and learn)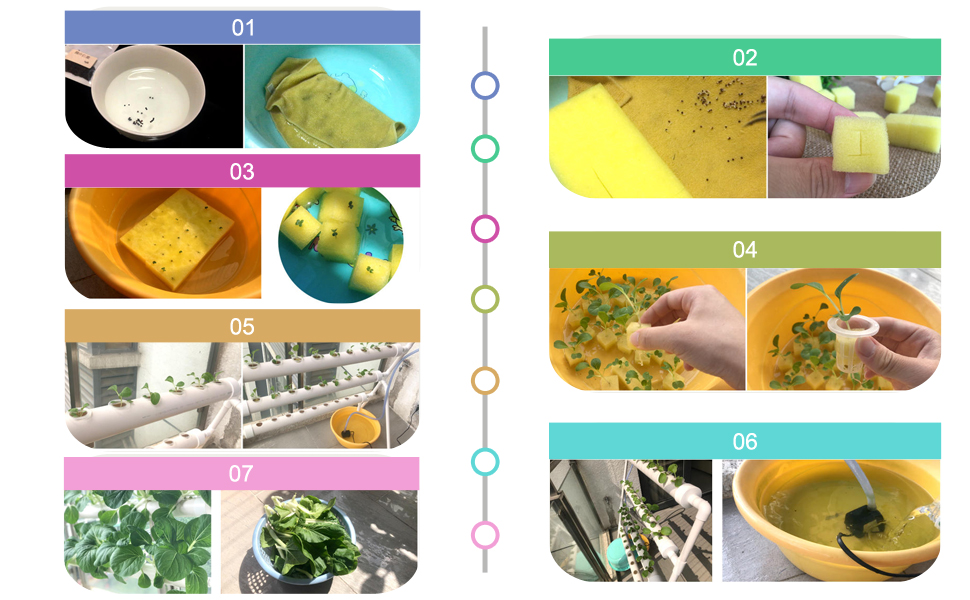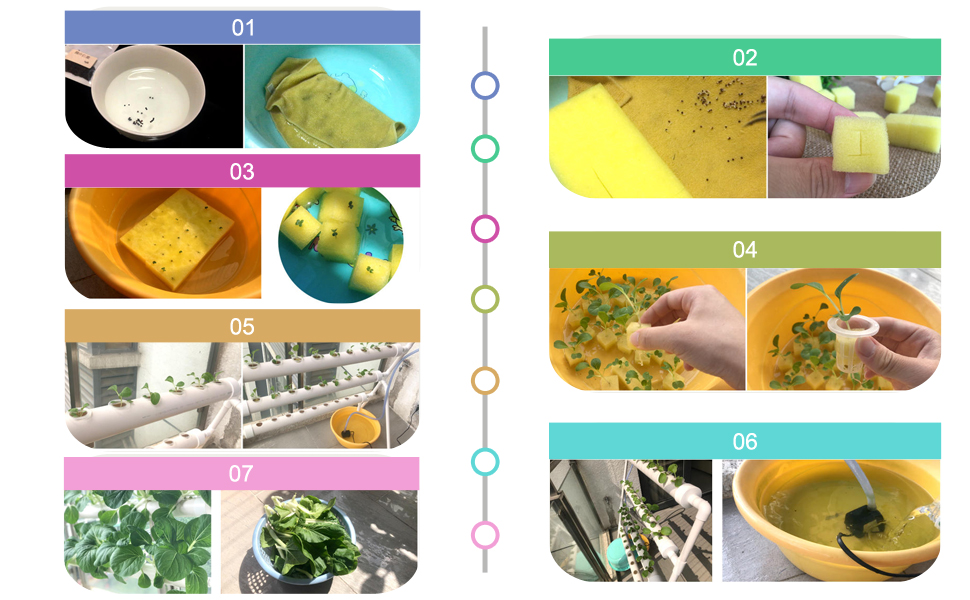 Suitable for
Hydroponics Hydroponics and others Hydroponics Hydroponics
Parameter
100 pack 200L/H 12V 4W 100 Small Pieces 50 pack
Soilless cultivation with nutrient film can meet the production potential of crops; Compared with traditional soil cultivation, the yield can be doubled with requiring less water and less space.
Adopted food-grade PVC-U pipes,each pvc pipe diameter is 2.48"/63mm,hole size is 1.2"*1.2"/30mm*30mm with ample space for vegetables,flowers and plants.Suitable for lettuce,spinach,pakchoi,cabbage,radishes,strawberry,herbs,rape,beets,garlic seedlings,canola,celery,etc.
The water pump with timer allows you to set the on time at 5/15/30 minutes intervals and off time at 30/60/120 minutes intervals to reach the nutrient film technique,The circulation mode can also be set manually or automatically according to demandmake, make the pump more durable,save nutrient solution and make the vegetables grow better!
Extremely simple to assemble and use,only need nutrient solution(not include), no odor, very clean; It is easy to take care of, no arable land, clear weeds, save time and effort.