Rise Gardens Personal Garden and Starter Kit | Hydroponics Growing System, Wi-Fi & App Controlled Indoor Garden with Growing Lights & Self-Watering System | Includes 8 Seed Pods & 6 Weeks Nutrients
$349.00
Description
Price: $349.00
(as of Apr 18, 2023 07:56:05 UTC – Details)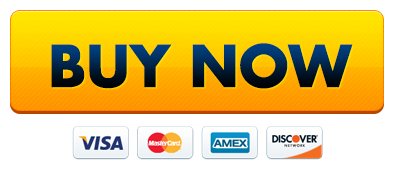 Product Description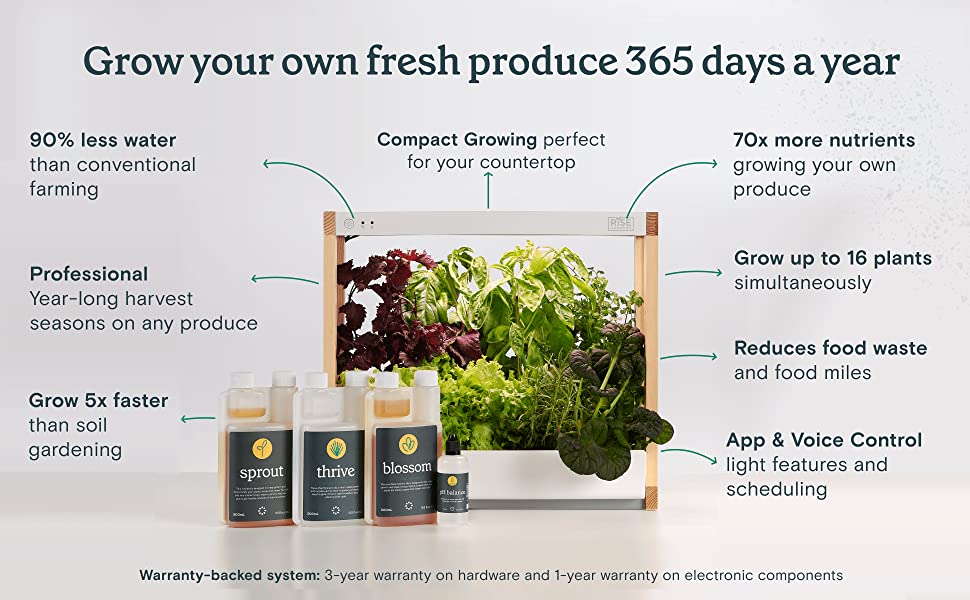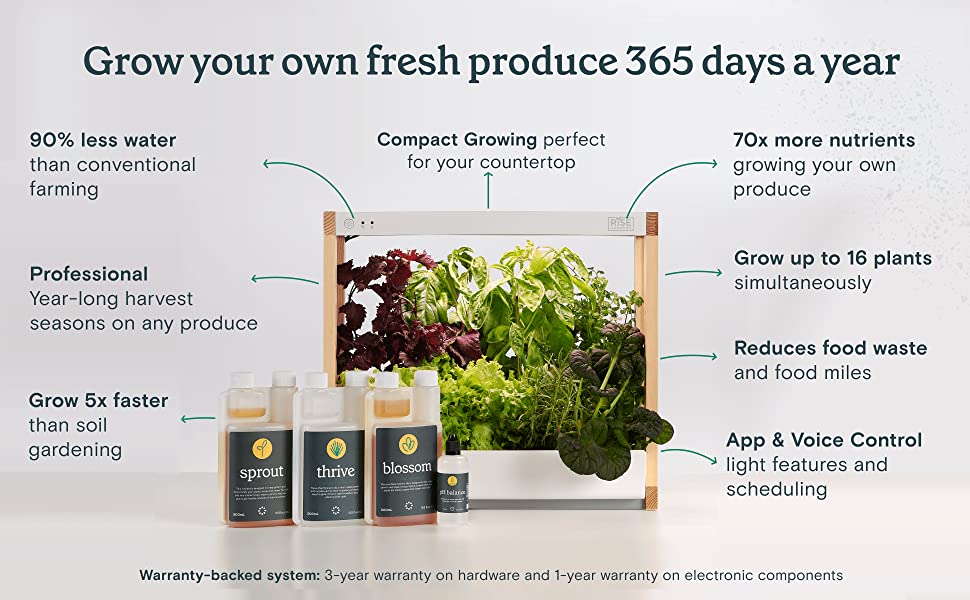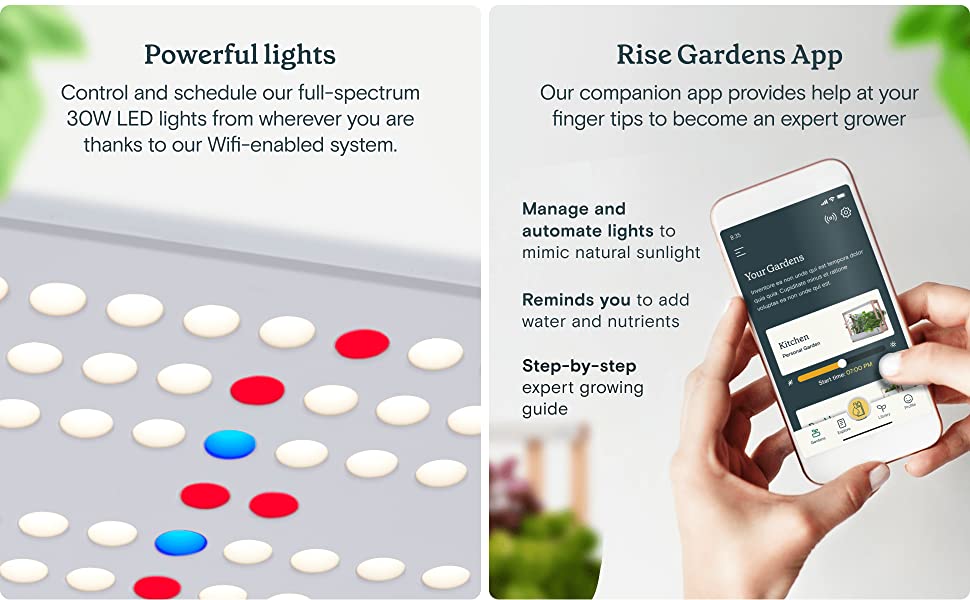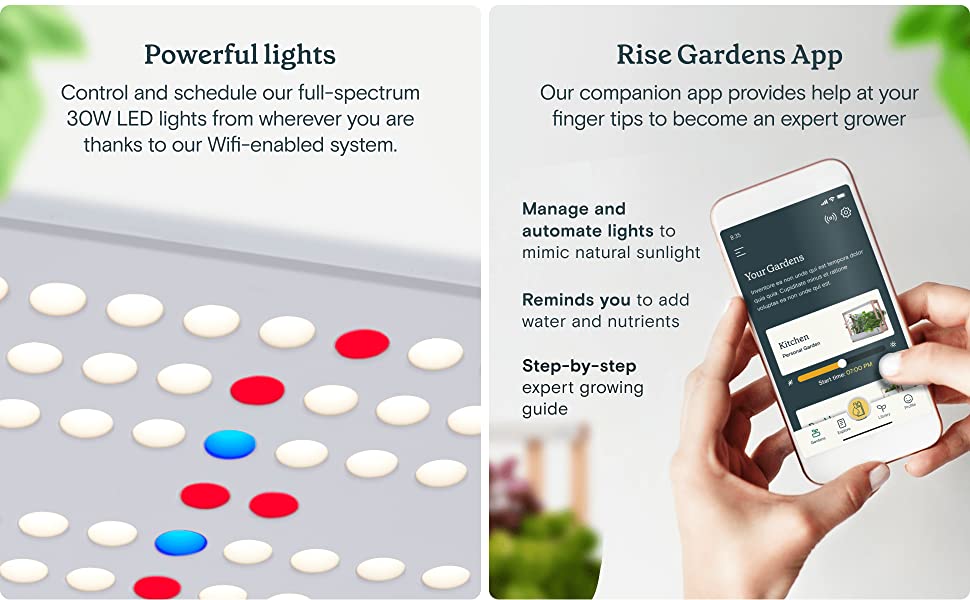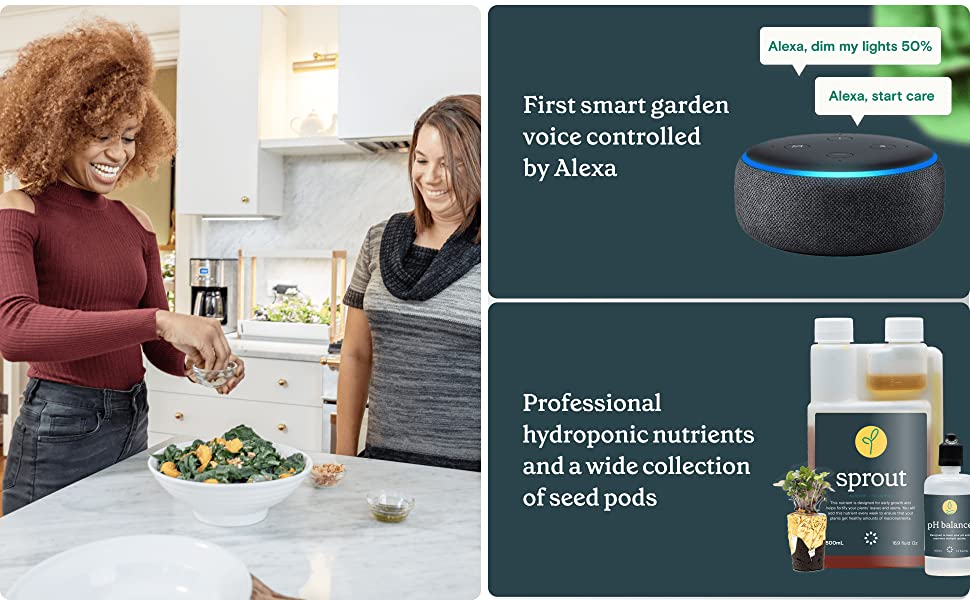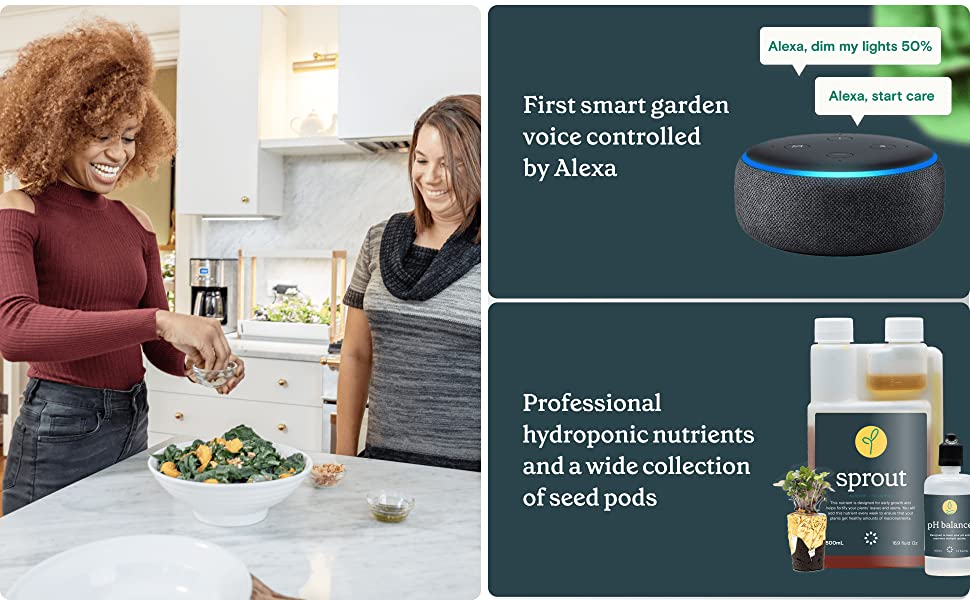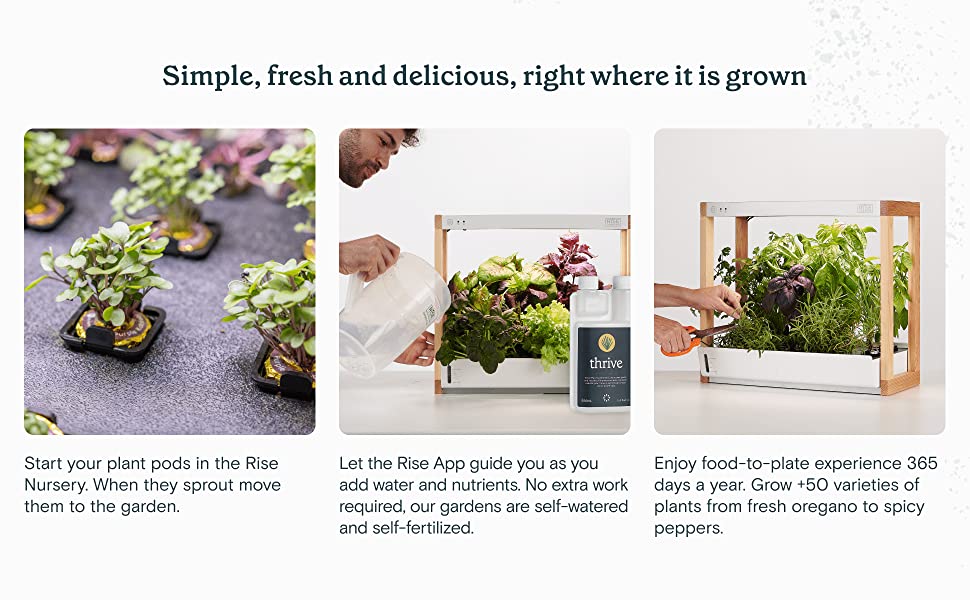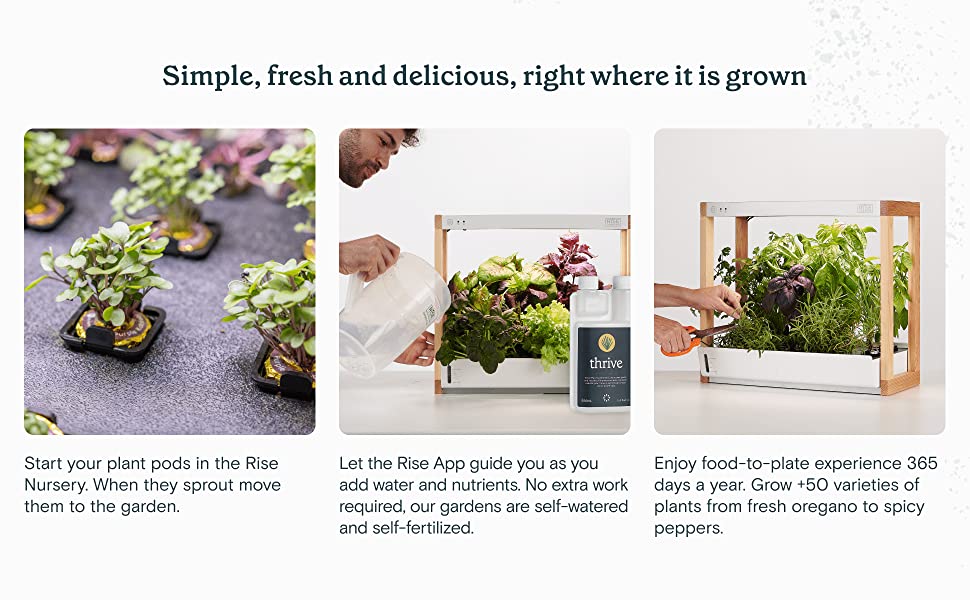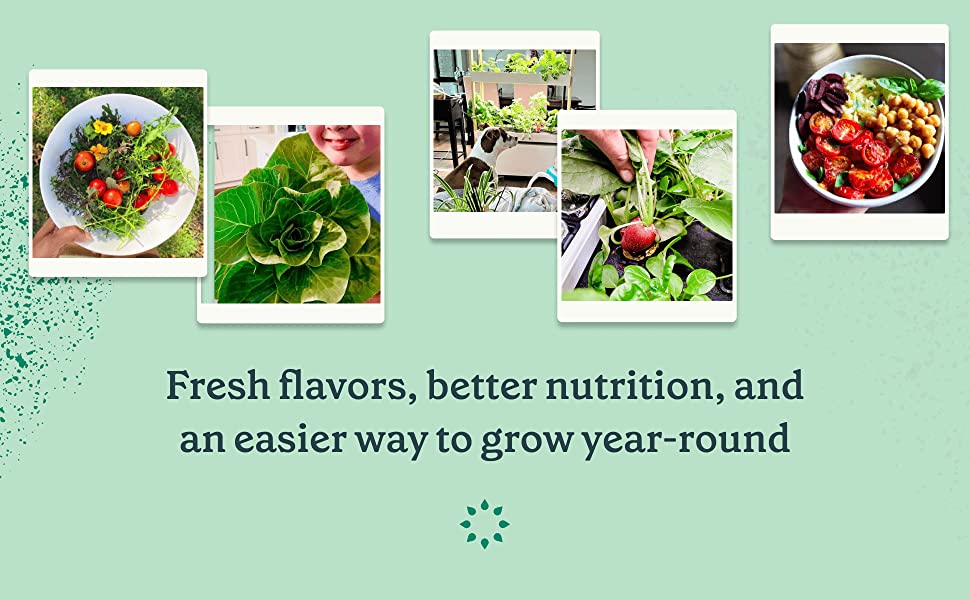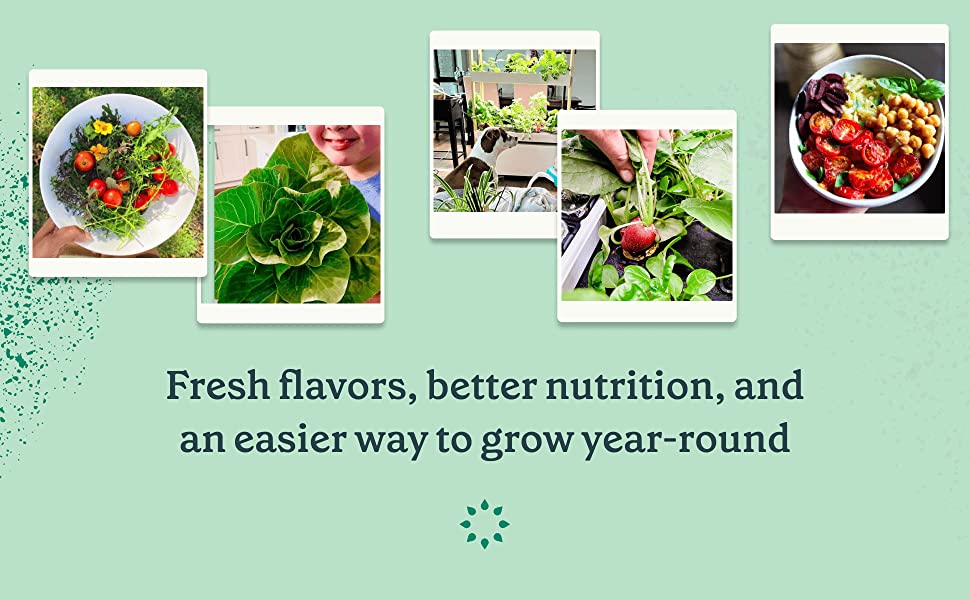 What:
pH Balance lowering solution helps you keep your pH in the targeted range of 5.8 and allows your plants to uptake their nutrients. Our app guides you along the way Thrive Plant Nutrient Mix is vital to plant growth and includes all the micro-nutrients your plants need to grow. Thrive is used throughout your plants' growth cycle Sprout is a light auburn colored nutrient that contains Iron, Nitrogen, Calcium, and Potassium, macronutrients. It comes in a 500mL Betex squeeze bottle for easy measurement Designed for late stage growth and replaces Sprout nutrient when your plants are ready to grow their flowers and fruits
When to use:
Use every time you add water Use throughout your plants' growth cycle Fortify your plants leaves and stems Designed for plants that produce flowers and fruit. Tomatoes, peppers, eggplants, beans, cucumbers and peas
Contains:
Phosphoric Acid and other ingredients to lower water pH Magnesium, Potassium, Phosphorous and a Custom Blend of added nutrients Iron, Nitrogen, Calcium & Potassium Iron, Nitrogen, Calcium & Potassium
Included with Personal Rise Garden system:
✓
✓
✓
✓
APP CONTROLLED & SELF WATERING: With the app-controlled self-watering and light system, you're free to leave the house days at a time and not worry about your plants dying with this smart garden. No green thumb required – the app will notify you when nutrients are needed.
LED LIGHTS MIMIC THE SUN: Our hydroponic system grow light is a custom LED panel that mimics the sun and provides the broad spectrum of light plants need to grow so you get all the benefits of the sun without the harm.
SPACE-SAVING HYDROPONIC GARDEN: No need for a yard or large balcony to grow your dream garden. At just 18 inches, the indoor garden kit is perfect for even the smallest spaces and can be used as a countertop garden.
IDEAL GARDENING GIFTS FOR FOODIES: Included in the indoor grow kit is our starter kit, with 8 seed pods and six weeks' worth of hydroponic growing system nutrients (Sprout, Thrive, pH). Starter seed pods are made up of a herb mix 4 pack and salad mix 4 pack. Herb Mix 4 Pack includes Super Sweet Genovese Basil, Common Sage, Forest Green Parsley, and Santo Cilantro. Salad mix 4 pack includes Bronze Arrowhead Lettuce, Parris Island Cos Lettuce, Astro Arugula, and Red-Streaked Mizuna Mustard.