PULACO 2Pcs Mini Submersible Water Pump (95GPH 5W) for Aquarium Fish Tank, Pond, Fountain, Hydroponics
$19.99
Description
Price: $19.99 - $16.99
(as of Apr 18, 2023 09:26:12 UTC – Details)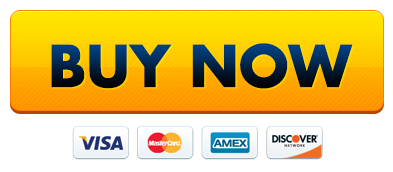 Product Description


NOTE:
1. As this aquarium pump is submersible, and need to be put into water fully before power on to avoid the aquarium pump burning out. Prohibit no-load running.It would shorten its lifespan and lead tomaking loud noises when running in the air for long time, Whenchanging water, please disconnect power supply.
2 .If the product suddenly stop working or make noises, which may caused by debris blockage. Please clean it regularly about once every two months.
3 .Insufficient power and insufficient frequency would affect the fountain pump's flow rate. 95GPH refers to the flow rate without using a pump water pipe. If connected with a pump water pipe, the fountain pump maximum flow rate would less than 95GPH.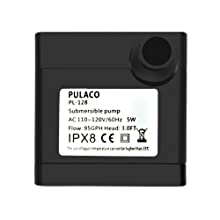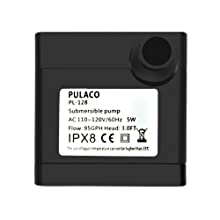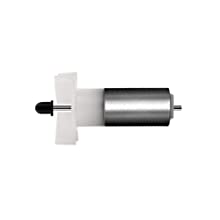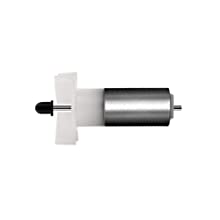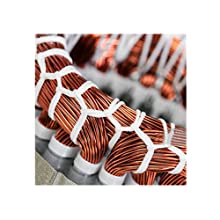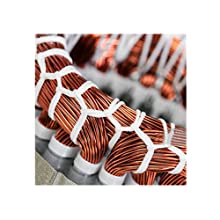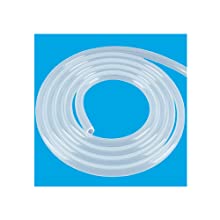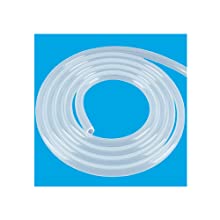 Specifications
Max Flow Rate: 95 GPH (360L/H)
H-Max (Lift Height): 3.0 ft( 0.9m)
Power: 5 Watt
Length of Power Cord: 5.9 ft(1.8m)
stainless steel Shaft
stainless steel standard rotor, anti-corrosion, anti-rust, wear resistant, long service life.
Copper wire motor
100% copper wire motor, more stable and efficiency, low noise.
Tubing (I/D 1/4inch)
Package include one piece of 3.3ft free tubing.(I/D 1/4inch)
Inventory
✓
✓
✓
✓
✓
✓
Power
5 Watt 10 Watt 50 Watt 3 Watt 3 Watt 3 Watt
Power Source
Corded Electric Corded Electric Corded Electric Corded Electric Corded Electric Corded Electric
Size
1.8 x 1.8 x 1.4 inch 3.3 x 2.3 x 2.8 inch 5.5 inch 4.2 x 2.3 x 2.5 inch 1.7 x 1.7 x 1.0 inch 3.5 x 3.1 x 7.7 inch
Weight
5.5 ounces 11 ounces 5.2 ounces 10 ounces 7.8 ounces 6.2 ounces
★【Adjustable Flow Rate】: Designed with a adjusting knob, allowing to adjust the water flow rate, the maximal flow rate can be up to 95 GPH. It can elevate column of water up to 3.0ft.
★【Detachable & Cleanable】: No need any tools to detach it, easy to seperate, easy to clean.
★【Small Size】: The small size makes the pump easy to hide or disguise in the water. Dimensions:1.8 x 1.8 x 1.4 inch.
★【Package】: Pump x 2 & one tubing, Equipped with a 0.3″ diameters nozzle, and a 3.3ft free tubing come with the package.